Being connected on LinkedIn every minute means that every minute you can attract a new lead or partner. The business community is growing rapidly, as is the reach of advertising posts on this network – in 2022 it increased by 22 million users.
Download Linked Helper 2 and get 14-free trial right now
If you are not yet in our list of users, then join. We give you a trial version to start your experience with our LinkedIn tool.
Start interacting before sending a message. The fact is that the robot assistant will pave the way for the start of communication, and the person who does not know you yet will be more inclined to engage.
Parse profiles of important people and export the data. This kind of deep learning will help you automate your outreach while still being able to understand exactly what your target audiences want. You can get a CSV spreadsheet filled with data to help you start a dialogue.
Make each post unique. Even mentioning the general field of activity and the name of the interlocutor shows respect. This will increase the chance of being heard online in 2022. Linked Helper can send thousands of messages automatically without your participation and insert data from the recipient's profile everywhere, which will increase the likelihood of getting an answer.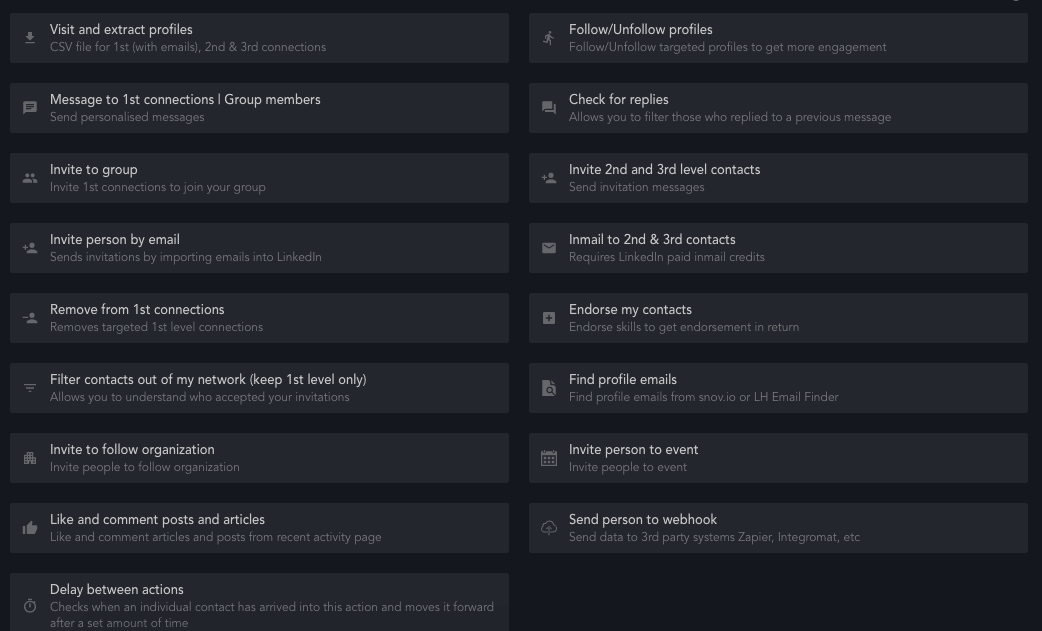 Next, we will look at ways to improve the dialogue with leads on LinkedIn – it can be both paid advertising and mass messages.
Learn how you can add personalized link thumbnails and images to messages.
In any case, you should communicate more often in various forms. After all, this is a social network where real relationships and trust will help you beat the competition.
LinkedIn conversation ads basics
What are LinkedIn conversational ads?
This is a type of paid advertising specific to LinkedIn. Only, unlike other social networks that advertise in the feed, here you can get to the coveted place – right in your client's messenger.
Do you think it's intrusive? Maybe. But if you're not sure how to highlight your value and develop a USP for your business, this is a real treat.
Conversational ads LinkedIn resembles an interactive game where the recipient can choose the further course of the dialogue. Through personalization, people respond more positively to ads, even if they have them in their DM.
Perhaps for some, using these auto-replies will be even more successful than conversational ads on LinkedIn.
LinkedIn conversation ads examples & best practices
Perhaps you sometimes received similar messages from the LinkedIn team – for example, you may be offered a special deal to purchase an extended data plan.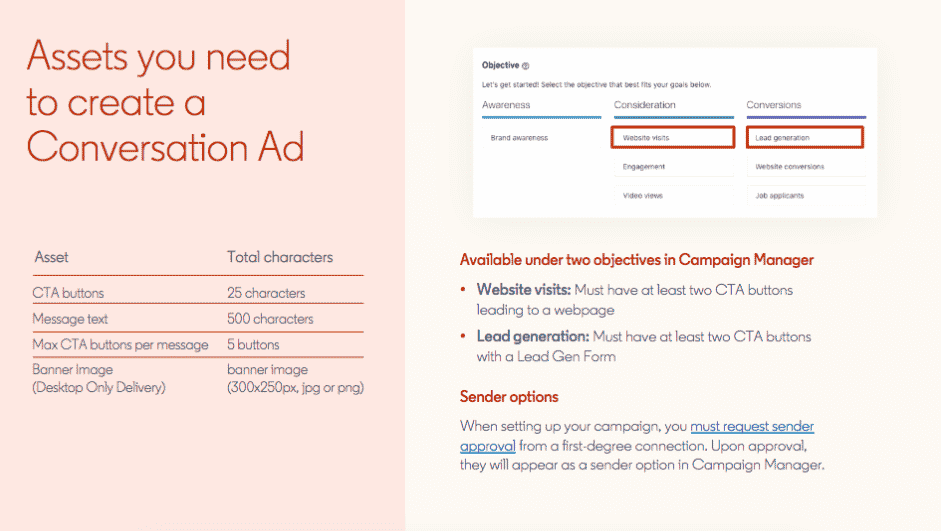 Tips for starting conversational ad on LinkedIn:
Advertise from a person's profile. Attention from a real user will always create a higher chance of the recipient opening a message than a commercial logo. Keep this in mind and choose an account with a bright and attractive profile photo. This is the first thing that strikes the eye.
The first line decides the course of the entire campaign. Mention the most appealing message in the first words – because they are visible in the message preview. It can be a discount, a favorable condition, a hook to the needs of the recipient, and so on.
Choose the most important thing for CTA. If you find it difficult to determine the parameters of the buttons, remember that the main thing is simplicity. Especially if this is your first contact with the audience. Let this be a link to useful information, a demo version – you should not overload a person's attention with a complex survey.
Examples:
#1
[Your name]
Get (the report, access to the software, etc.) for free! The offer is valid until (specify the end date).
We found out you are involved in (link your offer and the needs of the recipient), so this data will help you (indicate the value to take steps).
Just click on the button below – it will only take a second.
(Button to data)
(Button to your website)
#2
You have received an exclusive invitation to the event (specify the name). This is a great opportunity to (list the value of visiting).
What's waiting for you?
(specify program)
You just need to fill out the form to participate.
(Register button)
(More details button)
You can learn more about setting up and running such campaigns in the PDF guide from LinkedIn experts.
How to start a business conversation on LinkedIn
These simple steps will help you establish business communication through private messages. It's not always worth running ads to reach leads – after all, Linked Helper is able to show your message to hundreds of users and optimize its content.
Create a business funnel to build a dialogue
When you're using social media for business connections and not entertainment, brand name and lead quality are critical. Therefore, we offer you a way to create an action funnel through automatic software – and you can try it for free for 14 days.
Example:
Visit the pages of your target audience. Visiting a lead is already the start of a promise. And it looks more natural than a promotional private message. The visits almost always elicit a response (a reciprocal visit to your page).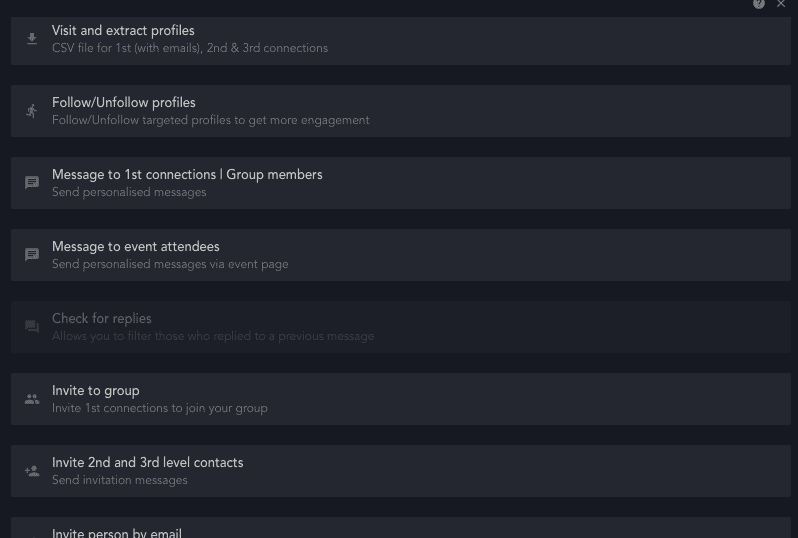 "Visit and Extract" is a Linked Helper auto-action that not only visits the profiles of leads on your behalf, but also uploads their page data to the CRM database. The tool can find business emails and build a database even if the information is not listed on the page. Read how to scrape business emails automatically in our blog.
Send a request to connect. With a database of emails, you can forget about the limit of 100 connections per week. The software can even send 700 requests on your behalf if you download the target email database (obtained in the previous step). In addition, the software can use the LinkedIn undocumented feature to increase the limit. The robot will continue to send out invites using emails. In this case, you can add a custom message to each invite. 
Start a conversation with a welcome message. Next, you can assign the write action to 1st degree contacts, so that everyone who accepts your connection request will immediately receive a message. Your dialogue will begin right away.
And most importantly, you will reach hundreds of people this way – just imagine how much time it would take for an assistant to perform these business tasks.
Linked Helper also helps to parse the history of your messages with users, which can be important if you have hundreds of conversations. This will let you download the texts in a table and analyze them to identify the strengths and weaknesses in your outreach strategy.
Think over the pitch
Yes, meaningful content matters in business. These are simple rules that are necessary for a successful dialogue. For example, the name of a person, your shared contacts, or the name of their industry in the text will create no doubt that you yourself wrote the text.
You can find 20 examples of messages for different occasions that help sales on LinkedIn.
Don't limit your communication to messages
This may be a key difficulty of selling on LinkedIn – the most important strategies users implement in this network, they implement in private messages. Therefore, it is difficult for you to find data on what is working best for your competitors.
But this does not apply to public posts or comments. You can research successful competitors and influencers to absorb the best examples.
Important channels for business in the community:
Communication in groups. Make a selection of at least 10 professional groups where your colleagues, CEOs, clients, and so on live. Many people are sensitive to the content in groups – after all, it is almost always niche and exclusive news from real people. Linked Helper allows you to write in bulk to all group members at once – just think how that will speed up your communication. After all, you so dreamed of looking at the computer less, and now you can safely drink coffee while the robot writes to everyone personally.
Promote online through events. You can create a conference call right on LinkedIn, and it's a cool way to communicate. Through a webinar, you can quickly convey important information to hot leads immediately. It's an art to make a webinar or event attractive. You can read up on event marketing in our blog.
Influencer comments. It's important to be visible on niche people's pages – this content is watched by your potential connections, partners, and leads. Therefore, by leaving a lot of comments, you spin up dialogues around your brand name, show expertise, and grow trust. Let it be your routine task to write at least 5 comments a day.
If commenting gets boring quickly, you can automate comments via Linked Helper.
How to start a conversation with a recruiter on LinkedIn when looking for a job
To find a job through the social network, do not rush to message HR specialists. The first thing is that you have to make sure your profile is polished – for a good and proven result!
A stranger cannot understand how good you are at work if you have one photo and a brief description of your college studies on your page. On the other hand, if you fill out your profile with keywords, recruiters will most likely find you and send you job offers.
Read the top tips for creating a great bio for sales professionals (there are also universal tips for all professionals).
Customize your search
If you choose the right "right" recruiter for you, you will definitely speed up your job search. To do this, integrated Boolean search strings may help you. 
You can contact people by sending messages manually. Or you can download Linked Helper for free and parse the database of recruiters in your industry, location, or specific companies.
Go to outreach
Next, you can use:
Mass messages for accelerated communication through the software.
Outreach to recruiters via email. There is a good chance that the software will find a business email on the recruiter's page – if it is not specified, the email finder can continue searching through the integration with Snov.io. (This is a mass mailing service from which you can transfer email addresses when searching for emails through Linked Helper).
By the way, Linked Helper has another option for searching emails – LH email finder. This is a database of users' emails from which you can extract the emails of those who are not in your contact list. If these people are in the common database, the software will find their emails and parse them.
What to write in a message?
You can keep a casual style if you post on social media.
Show that you have done research on the company and know the market and are ready to help with your services.
Don't be trite, and attach reviews of past projects. You can also request recommendations from former colleagues in advance and have them in your profile.
You can attach a link to your CV if not everything is listed in your profile. Also, recruiters often need to print a resume to discuss your candidacy with colleagues.
Eventually
Have you already figured out which style of communication with the audience suits you best? Promotional messages, mass mailings, or group conversations? In fact, you should not choose one method – you should make every effort to work through all the channels of communication. It is easier to start a dialogue with the audience if you clearly know their needs and requirements. Automation will help you in market research and effective outreach. It will save you from really routine tasks. After all, your role is to come up with the best message for your communication. And it's Linked Helper that can help you with the rest. Try it on your PC now for free.