In 2023, you no longer need to blindly sell over the phone, and the need for physical stores has been minimized. Customers themselves are accustomed to learning about new needs through social media. Therefore, LinkedIn is a proven sales platform that allows for inbound and outbound sales. In this article, you will learn:
How to create a funnel for warming up and attracting a mass of targeted customers through software
How to utilize the scraping of email databases to increase effectiveness
What opportunities LinkedIn provides for outbound sales and which ones can be trusted to automation
All of this knowledge will guarantee an increase in your customer base without manual intervention and will certainly lead to sales growth!
Still don't know what outbound sales is? Outbound sales involves taking the initiative to contact potential customers who haven't shown any interest in your product or service yet. The difference between outbound and inbound sales is that inbound sales concentrates on enticing and engaging prospects who have already expressed interest. Outbound sales techniques include cold-calling, email, LinkedIn outreach and InMailing, whereas inbound strategies include content marketing, SEO, and follow-ups as crucial elements.
The outbound advantage is that you can proactively reach out to potential customers who may not be actively seeking your product or service. This proactive approach empowers you to engage with prospects who might not be familiar with your offerings but could still possess an interest in what you have to offer.
Linked Helper is the best automated assistant that is perfect for finding these unaware clients on LinkedIn. Connecting with hundreds of clients manually can seem like a daunting task, but this software can perform actions for you and overcome the social network's built-in limitations. In the first section, we'll take a practical look at how campaigns work to help users consistently and safely increase the flow of clients through LinkedIn. Below you can see the results you can achieve after setting up a campaign once and quickly!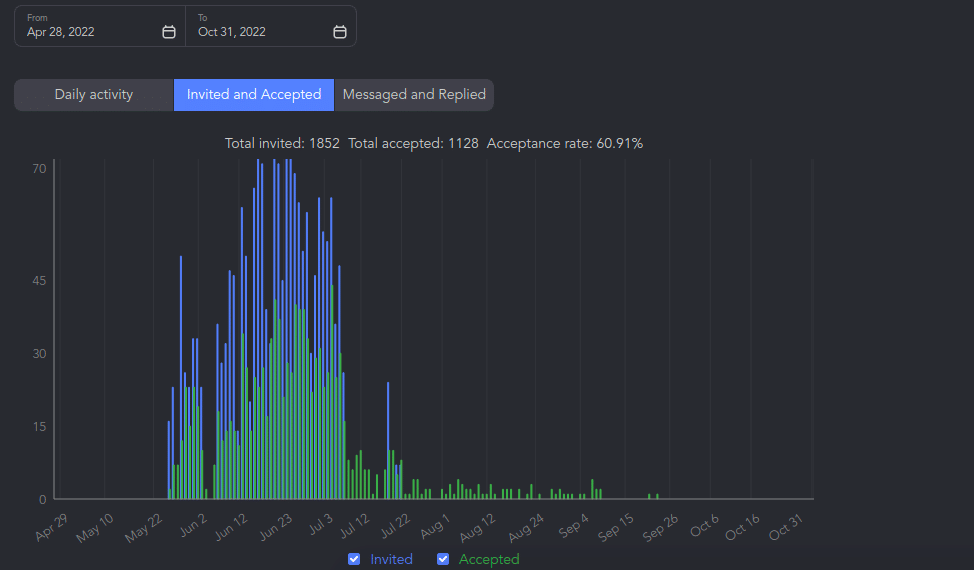 What sales tasks can you delegate to the software?
Auto lead generation with data parsing
Auto personalized prospecting
Building logical chains of auto-actions
Ability to increase target audience coverage faster and cheaper than with advertising
Managing clients in the built-in CRM or exporting through webhooks to your CRM
By downloading the software today, you can try to create your own funnel using the examples from this article (and find your best method through A/B testing). If you can't figure it out on your own, our support team is available on WhatsApp, email, and online chat.
Download Linked Helper 2 and get 14-free trial right now
If you are not yet in our list of users, then join. We give you a trial version to start your experience with our LinkedIn tool.
How to get the most out of LinkedIn with a Linked Helper funnel
In Linked Helper, you can fully automate prospecting on LinkedIn – literally every step of interaction with potential customers. However, before you learn how to create an auto-funnel, you must understand that there is no one-size-fits-all formula for all types of businesses because the success of a funnel (even if it's as simple as warming up your target audience by following and liking before sending an invite) depends on specific factors. Some of these factors have been identified through years of practical testing, while others you will discover for yourself by installing Linked Helper and experimenting with campaigns.
The success of a LinkedIn auto-funnel for prospecting depends on several factors:
The content of your invite messages, follow-ups, and comments
The same funnel can yield different results depending on the presence or absence of a message, as well as the content of the message. It is not possible to definitively say which text will work best.
Advice: Experiment with messages through A/B testing on a substantial number of profiles (such as 1,000 profiles per campaign). See which message works best (or if having no message works better). If the invitation message is fairly neutral, try to mention points of commonality (common connections, industry, shared events or groups). If the invites are more customized and targeted towards a niche audience, it is worth mentioning how you can be helpful, what expertise you have, or what experience you can share.
Pauses between follow-ups
Pausing plays an important role! Sometimes the race for a client leads marketers to try to process as many leads as possible. As a result, you may choose to warm up the leads with an action (such as following them) and not include any pause before inviting them.
However, this approach may decrease your conversion rates since clients may not have time to check their notifications and see that you have followed them. Thus, the warm-up action may not work as intended. On the other hand, in a very active market, warm-up actions with pauses may hinder progress, as speed is more critical than a warm-up.
Recommendation: If it's B2B and you're reaching out to big bosses, a narrow or important target audience, then you should have a two-day pause between warm-ups and a 7+ day pause between follow-ups. If you're selling to B2C, then you can have shorter pauses (12-24 hours and 3-5 days, respectively).
Your approach to personalization
Some Linked Helper users create personalized video messages for each accepted invitation (read how to automate video messaging in our blog). With this approach, the response rate is higher, and follow-ups may not be necessary because you'll receive a response after 1-2 messages. On the other hand, if you send a simple sales message without much personalization, you may need to send 2-3 messages to catch their attention and endorse their skills. 
Tip: Use IF-THEN-ELSE statements (see our tutorial), personalized and non-personalized images, and custom variables (find a simple guide).
The whole approach to the lead generation process
Some LinkedIn Helper users invite and message people on LinkedIn while simultaneously sending promotional emails and making calls to the found phone numbers. Some users handle all the correspondence manually, only using LinkedIn, so they set only warm-up actions in Linked Helper and send the invitations without any copy. Then they manually process those who have accepted. If they don't receive a response on the first try, they don't continue the funnel. Many different strategies are possible; therefore, you need to determine the best LinkedIn strategy for your objectives and audience.
Tip: Evaluate the situation and try different approaches. For example, if you haven't previously done follow-ups via email, try it out. It may work perfectly for your chosen audience.
Prospecting automation examples via Linked Helper
Let's move from theory to practice!
Below you'll see examples of using Linked Helper as a LinkedIn tool for sales prospecting based on our observations and advice in the above section. You can copy these methods and try them on your business. Learn how to create your first campaign in the video and make sure you've answered 12 crucial questions before launching a campaign. Learn how to professionally find and filter leads for your campaigns.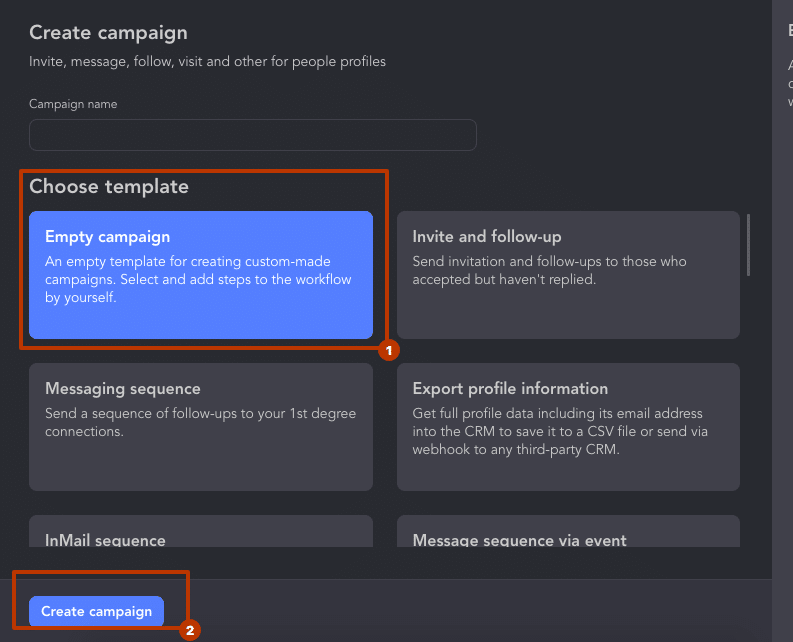 ​Note: In the tool, you will find a campaign template with the same steps. This means that you do not necessarily have to start from scratch, you can use the ready-made template and then adjust it. If necessary, you can add an endorsement, which is not present in the template but we use it in the example in this article.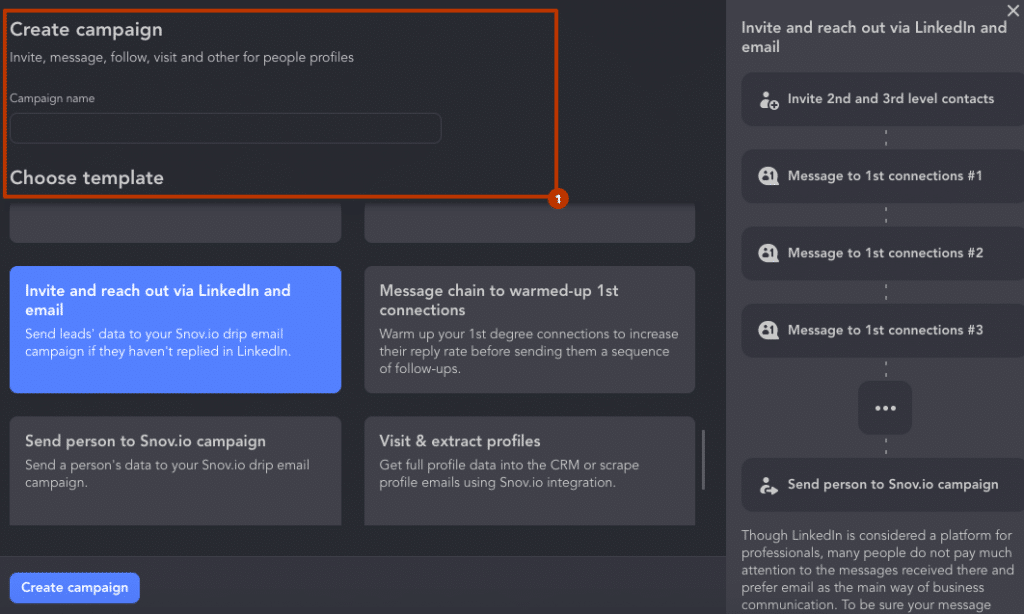 Campaign workflow for outbound prospecting
The quick workflow overview:
Auto-like.
Delay – 48 hours.
Auto-follow.
Delay – 48 hours.
Invite.
Filter.
Delay – 24 hours.
Message to 1st connections.
Checker with a 7-day delay.
Message to 1st connections.
Endorsement.
Message to 1st connections.
Checker with a delay of 14-28 days.
Let's review each action in detail below.
Like a couple of articles and posts from your target audience. You can perform this action without comments if you do not want to leave everyone the same texts. You can make diverse comments using the IF-THEN-ELSE approach. If you choose to leave comments, it is better to do it on one post and one article or only on a post. You can adjust the settings for this action in the General settings tab.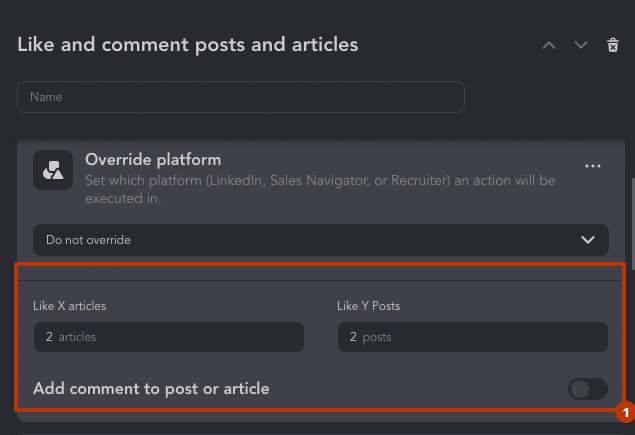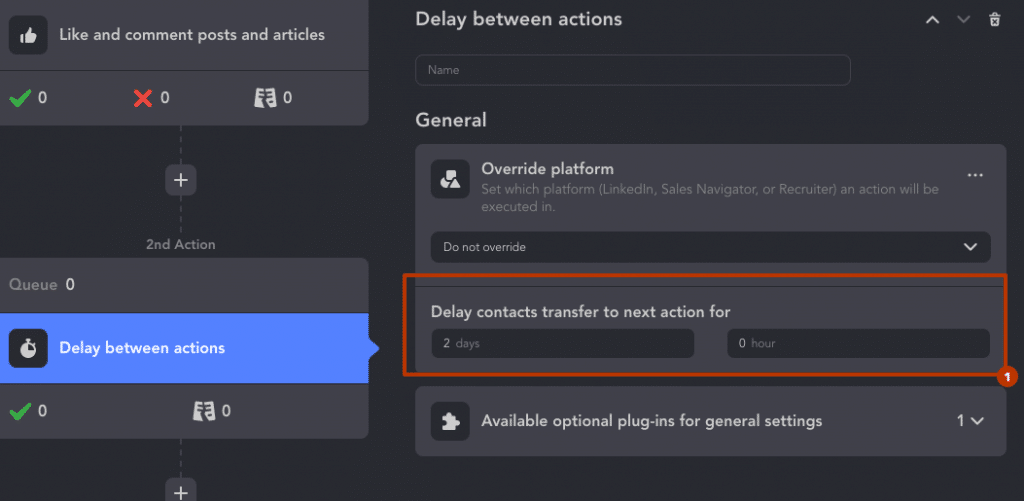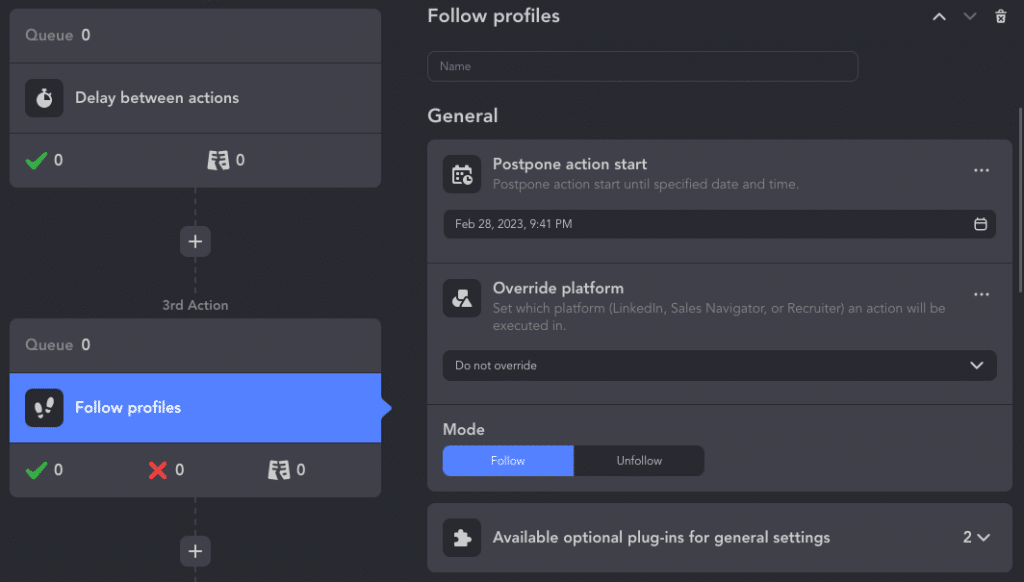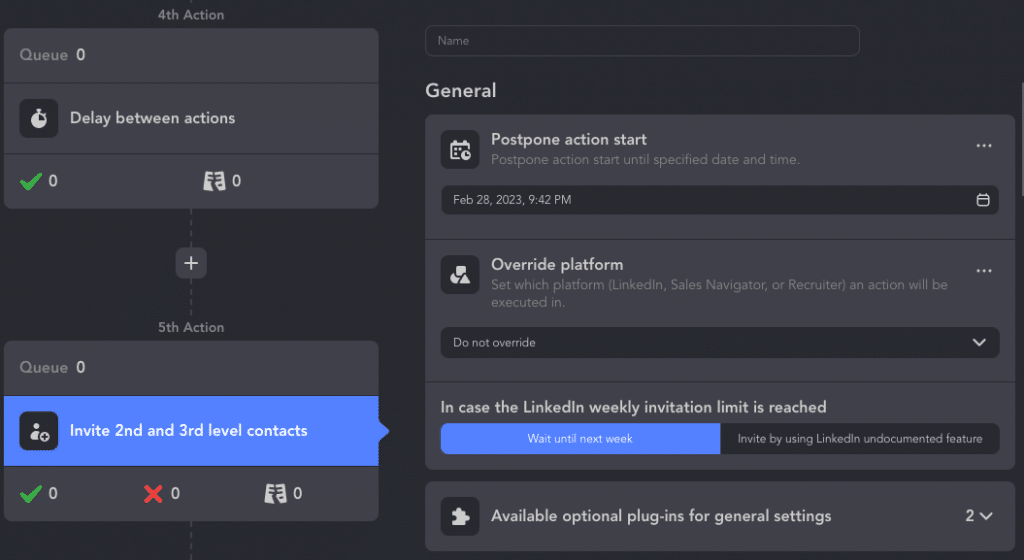 Filter. This action will help you filter out all the contacts who have accepted your invitation request, allowing you to send a message specifically to this group of people.
Delay for one day – to avoid seeming pushy.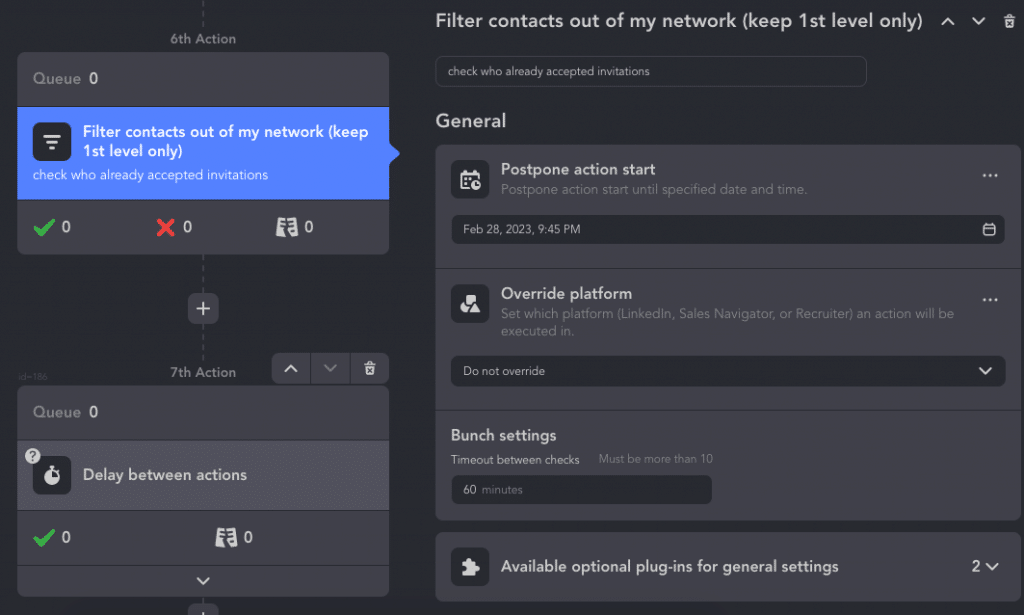 Message to 1st connections. It can be either a simple "thank you" or a 2-in-1: "thank you + information on how you can be helpful," or other message. You can attach a custom or generic image.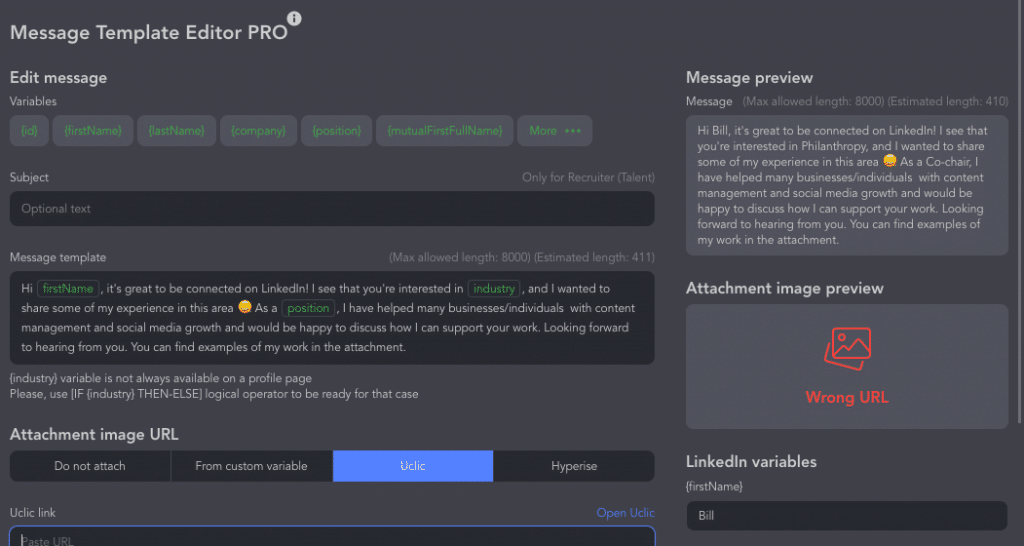 Hello [Name], I appreciate the connection and am looking forward to seeing your updates on LinkedIn. I specialize in [relevant skills/expertise] and have helped many businesses/individuals achieve [specific goals/achievements]. If there's anything I can do to support your work in this area, feel free to reach out.
Hi [Name], it's great to be connected on LinkedIn! I see that you're interested in [specific industry/field], and I wanted to share some of my experience in this area. As a [your profession/title], I have helped many businesses/individuals [specific achievements] and would be happy to discuss how I can support your work. Looking forward to hearing from you.
Checker with a 7-day delay. This action tracks the incoming responses to the messages you sent during the campaign, including invitations and messages to your new contacts. The software will collect all responses you receive for up to 7 days, making it easy for you to review them at any time.

Message to 1st-degree connections – a reminder of the previous message, with some useful additional information.
Hello [Name],
I just wanted to follow up on my previous message to ensure it didn't get lost in your inbox.
As a reminder, I shared some information about [your expertise/service] and how it could potentially benefit [their company/personal goals]. In case you missed it, I've included the key points below:
[Insert brief summary of the previous message]
Additionally, I wanted to share some exciting news about [a recent accomplishment or update relevant to your expertise]. I thought you might find it interesting given your interest in [relevant topic/industry].
Please let me know if you have any questions or if there's anything else I can assist you with. Looking forward to staying in touch.
Endorsement to attract attention. By verifying the skills of your audience, you may receive responses to your previous message or at least get confirmation of your expertise.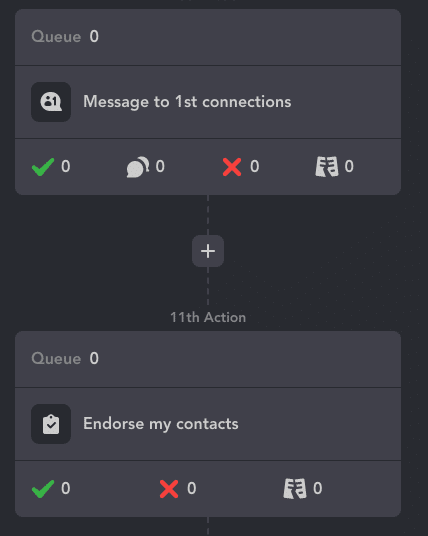 Checker with a 7-day delay.
Message to 1st-degree connections – final text to let them go. Mention that it's unfortunate they didn't respond, possibly due to being busy, and say that they are welcome to reach out to you themselves if they have anything to share.
Dear [Name],
I wanted to check in with you regarding the message I sent previously. I hope all is well with you. If you were unable to respond due to being busy, I completely understand. We don't want to be pushy, so if you have any interest in what we do or would like to explore potential opportunities, we would love to hear from you directly.
Take care,
[Your Name]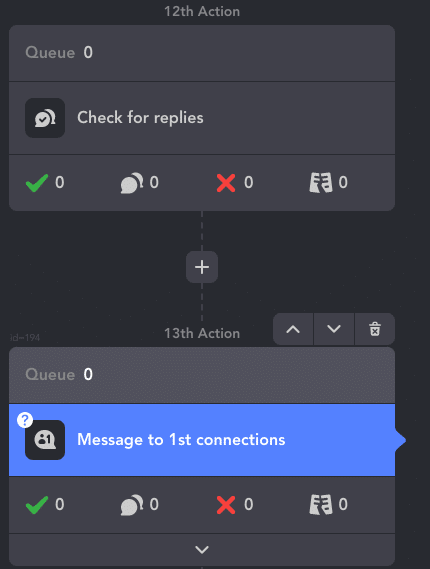 Checker with a delay of 14-28 days to detect all replies. 
At the end of this campaign, you have the option to add the "Send person to Snov.io campaign/webhook" action. This will allow you to forward the lead to an email service from LinkedIn for follow-ups with individuals who have not responded to your messages. Although this step is not obligatory, it has the potential to generate additional leads.
Campaign workflows via groups/events
Our team experimented with various pre-outreach campaigns to potentially interested leads through a group/event with a similar product theme. The percentage of accepted invitations was very good, see the results on the screenshot: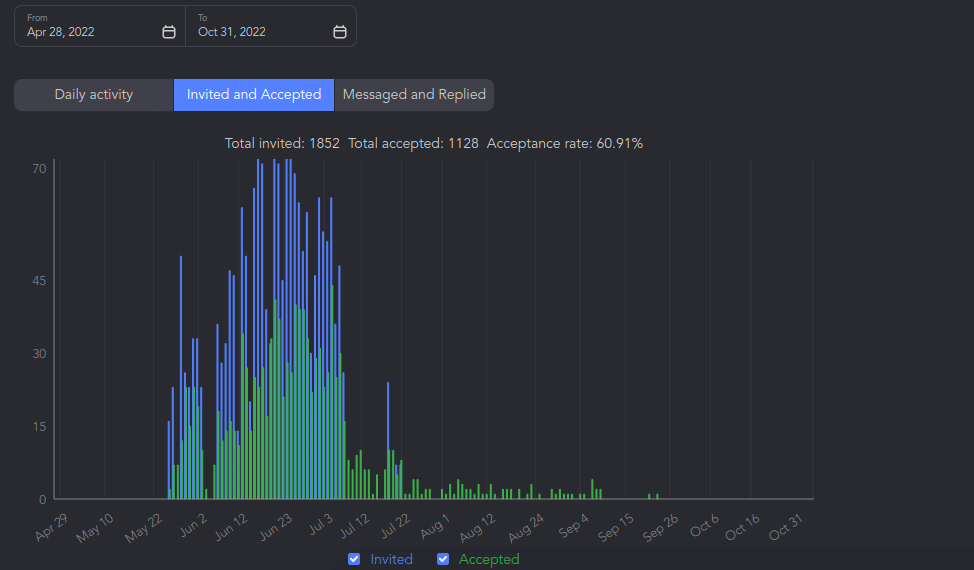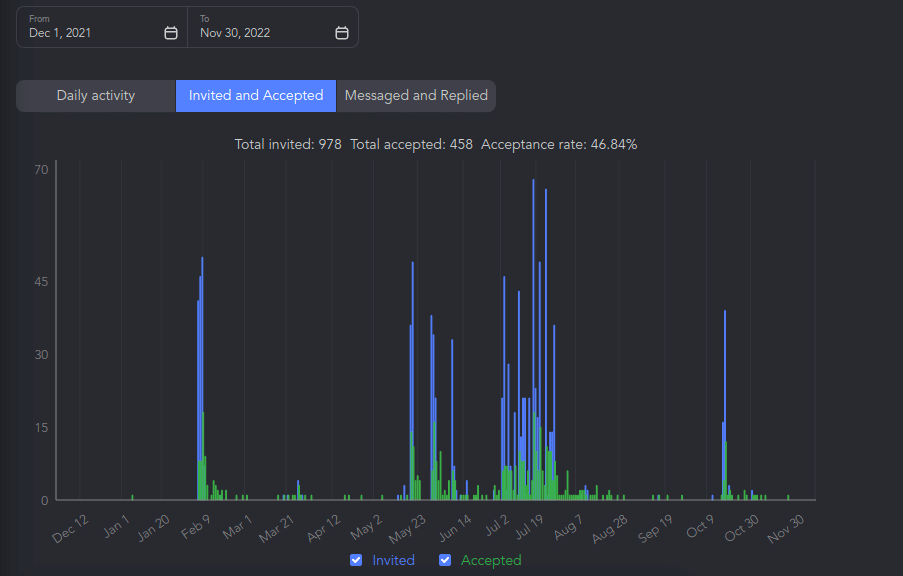 Compare them with the conversion rates on the second screenshot where there was no pre-outreach (including follows and long delays) through a group/event: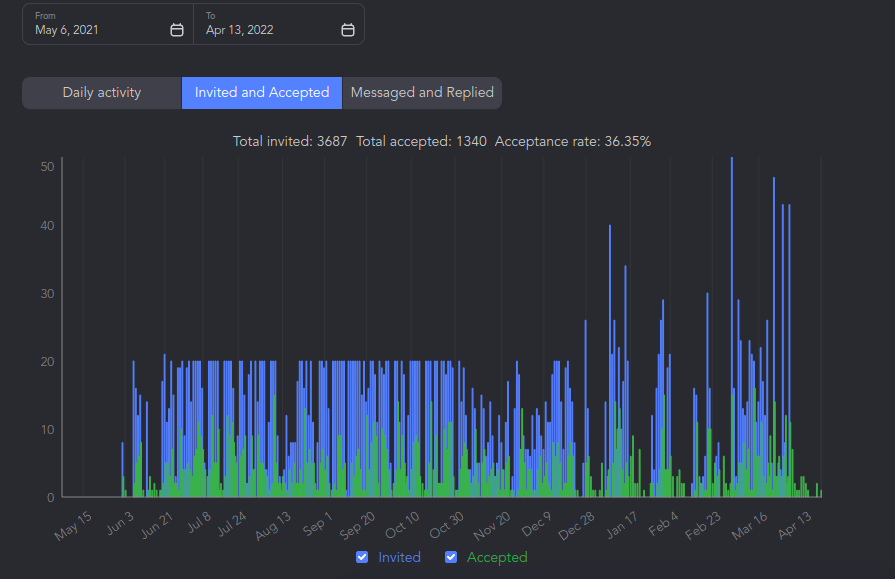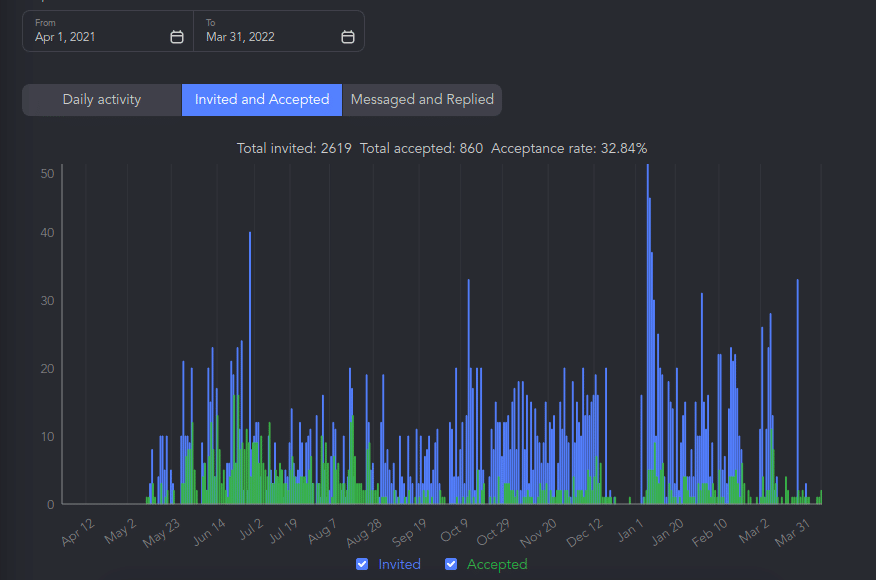 In the first case, we were writing to people on behalf of a CEO account according to the following funnel scheme:
Auto-follow.
Delay between actions for 12 hours.
Auto-like.
Delay – 24 hours.
Checker with a 1-day pause.
Invite.
Filter.
Message to 1st-degree connection.
Message to 1st-degree connection.
Checker.
In the second case, we were writing on behalf of a Sales Manager with the following workflow:
Auto-like.
Delay – 12 hours.
Message to event attendees.
Message to event attendees.
Message to event attendees.
Checker with a 1-day pause.
Invite.
Filter.
Message to 1st-degree connectiont.
Checker.
Nevertheless, there may be a difference in conversion due to outreach from people in different positions.
Email outbound automation with Linked Helper
You can use LinkedIn Helper as your best outbound automation tool. The social network is full of important contacts for your targeted email campaigns. Users often leave their email addresses in their accounts to receive job offers. Therefore, it would be foolish not to incorporate a free scraper into your outreach strategy. By using the LinkedIn Helper software to visit profiles, you can also collect active email addresses. After that, simply download the table and insert it into your mass mailing service or activate the built-in integration with Snov.io.
In LinkedIn Helper, there are two sources for collecting email addresses, even from users who are not yet your contacts. This means that you can soon reach the inboxes of even the most difficult-to-reach CEOs or those who rarely check their messages on the social network.
The first source is our internal Email Finder database. The contacts of all users of our software who agree to the terms of service are added to a common database of emails. This means that even if the person you need is not your contact, but a contact of another one of our users, the software will retrieve their email address for you. This is a great opportunity for outbound sales through email.
The second way is to connect to the built-in integration with Snov.io. This is a third-party service that can work synchronously with our software. With only the lead's name and the company name, searching through the integration can help you find the person's work email address. This approach will help increase the chances of finding a verified email address. Moreover, you can immediately create a campaign for mass mailing in Snov.io or transfer the data to the service you usually use.
These unique and advanced features make Linked Helper the best tool for finding target emails for outbound email automation if you don't want to waste a single minute on LinkedIn. By using the software to visit profiles, you get many opportunities to reach customers who know nothing about you.
Explore How to get emails of your 2nd and 3rd degree connections on LinkedIn.
Using LinkedIn for sales: experience & expertise formula
According to a report from McKinsey and Company, Two-thirds of buyers choose remote human interactions or digital self-service over traditional in-person sales interactions.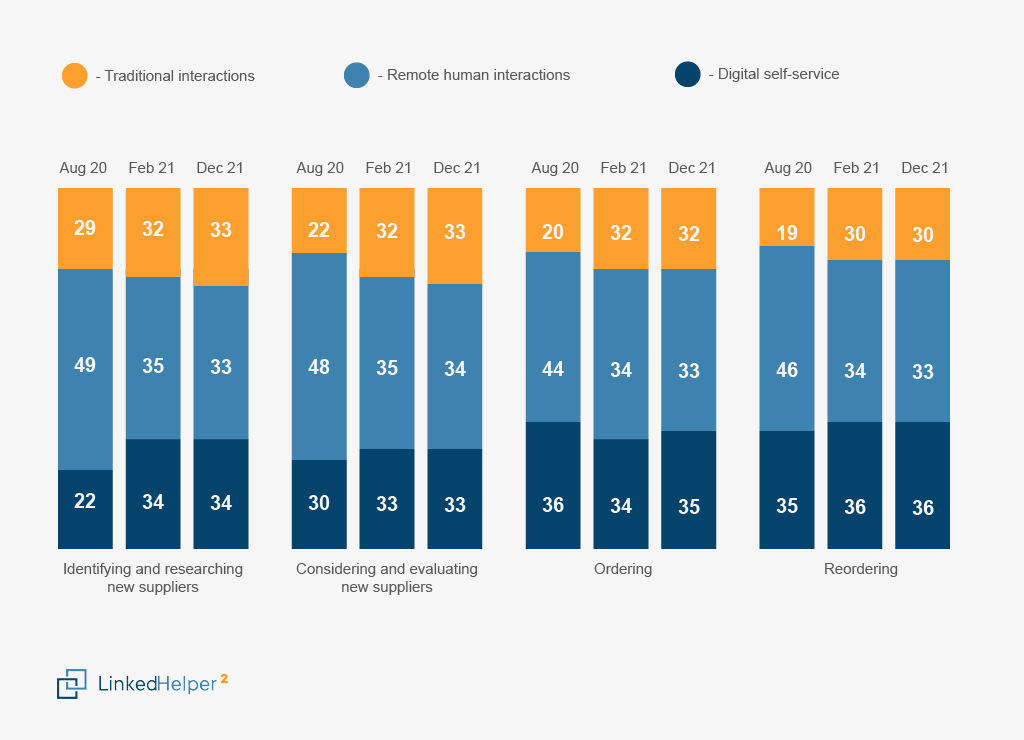 Insight: As customers look for personalized buying experiences, businesses should consider experience-led and expertise-led approaches.
An experience-led approach involves analyzing customers' previous buying journeys and needs to provide tailored recommendations, while an expertise-led approach demonstrates knowledge in areas such as the customer's industry or geography.
For sales through LinkedIn, this can be done by sharing case studies, customer success stories, and testimonials that demonstrate your company's expertise and track record in your industry.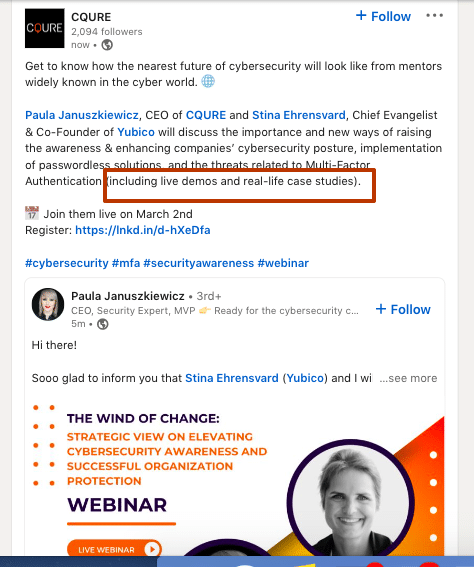 For example, if your company is a marketing agency, you might showcase a case study that outlines the challenges a client faced, the strategies your team developed, and the results achieved, such as increased website traffic or higher conversion rates. This approach can help potential clients see how your company can help them achieve their goals.
You can use this in your outbound strategy – in email campaigns, in invitation messages & messages to 1st connections, and when inviting to events.
To adopt an approach on LinkedIn that focuses on expertise for businesses and sales, it is important to establish your company as an authority in your field. This can be done by creating and sharing content that demonstrates your expertise and provides value to your target audience.
For example, if your company is a software development firm, you might create a series of blog posts or articles that explore emerging trends in software development or share best practices for building scalable systems. This approach can help establish your company as a trusted authority in your industry and can attract potential clients who are looking for innovative solutions to their business challenges. Also, you can invite expert leaders to your LinkedIn events and Q&A sessions:
LinkedIn's potential for outbound sales goes beyond just prospecting. One effective way to utilize this platform is to participate in relevant discussions by commenting. By engaging in discussions related to your industry or target audience, you can establish and build relationships with potential customers.
Making the most of LinkedIn with safe automation functions
Here are some successful outbound sales techniques that you can use with Linked Helper:
Utilize lead generation through scraping
To improve your leads on LinkedIn, it's important to search and filter effectively. With Linked Helper's scraping tool, you can gather data. This includes collecting leads from various sources such as LinkedIn search, groups/events, your network, and users who like/comment on your content. For more information, please refer to the manual.
Send connection requests over the limits
To reach out to someone on LinkedIn, the first step is to send them a connection request. To bypass LinkedIn's normal limit on the number of such requests, you can enable invites via an undocumented feature in the Linked Helper settings. The default limit for auto-invites in Linked Helper is 50 per day, which is optimal if you're performing other actions in your campaign. It's recommended not to exceed 50-80 invites and to manually set the limit for this action to avoid drawing suspicion from the algorithm and receiving a warning. Weekly invite limit on LinkedIn 2022: Connect in bulk after the update
Personalize your outreach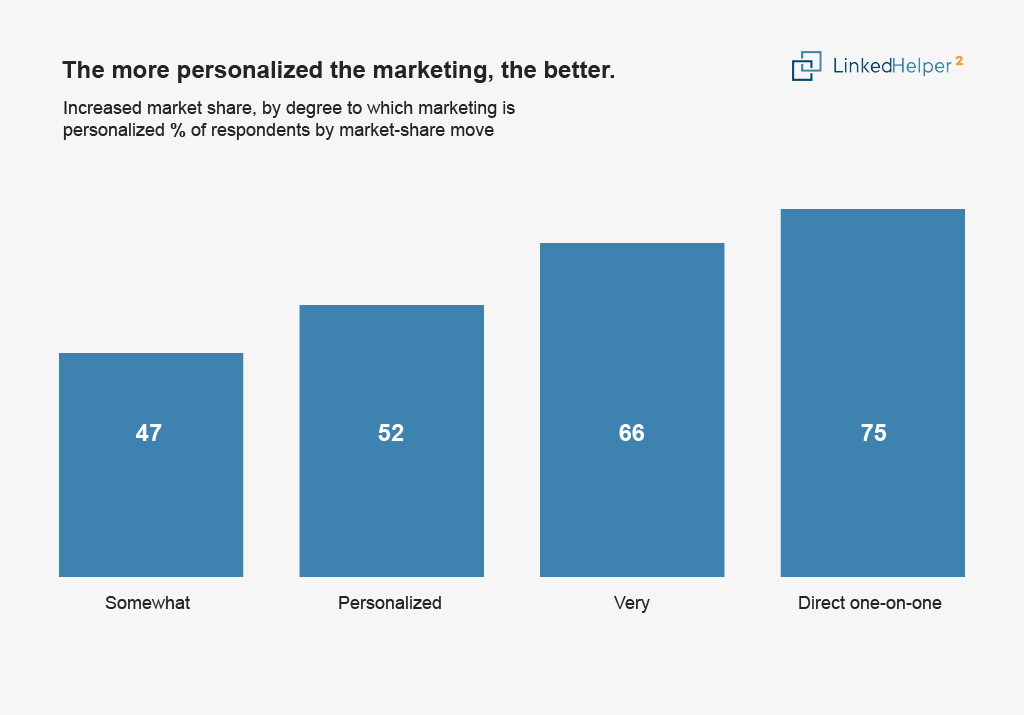 Personalization is crucial for successful outbound sales on LinkedIn. It can be a part of your experience-led approach – improving the customer's experience through personalization.
Customizing your messaging to match the prospect's industry, role, and interests can increase the chances of success. Hyperise, Uclic, custom message variables, and the use of IF-THEN-ELSE statements are tools in Linked Helper that can help you achieve incredible personalization. Hyperise, for example, enables the creation of personalized images and videos for LinkedIn messages and emails, and the embedding of personalized blocks on your website – all without requiring a professional design tool.
Explore all must-have tools. 
Utilize free InMails
LinkedIn's InMail feature enables you to send direct messages to LinkedIn members who are not in your network. This feature can be a powerful tool for reaching out to potential customers and starting a conversation. Linked Helper can assist you in writing free InMails to all Open profiles, sorting them from the search. Learn all about InMailing. 
The wrap-up: inbound sales vs. outbound sales
We would like to conclude this article by emphasizing that inbound and outbound sales are two distinct ways of reaching out to customers. It's crucial to leverage the strengths of both approaches to showcase your expertise and experience in online sales. Inbound sales methods, such as LinkedIn advertising or contextual advertising, are becoming increasingly costly and require a significant investment of time for the system to understand your customer's preferences. Therefore, sometimes it may be more effective to proactively approach customers through outbound methods, especially since LinkedIn and other social networks offer ample opportunities to find points of contact with your audience, from researching them to approaching them via friendly messages from individuals rather than companies.
When evaluating the effectiveness of outbound sales versus inbound sales, consider the level of competition in your industry. If you operate in a niche market with many competing offers, a proactive approach may be useful in reaching customers. On the other hand, inbound leads may be more qualified versus outbound leads since these customers have already shown an interest in your company by clicking on a banner or visiting your website through a keyword search.
To determine the sales potential of different prospecting techniques, it's essential to test various combinations. Additionally, Linked Helper can be an invaluable tool for lead generation, interaction, and gradual warming up of your target audience on LinkedIn, particularly for outbound sales to a narrow target audience and B2B sales, where personalization and targeting are essential.