LinkedIn messages are your #1 tool for sales and hiring. But sometimes it can be hard to find out how to start a conversation on LinkedIn for a job or for selling – that's why you may benefit from the examples we provide below. According to statistics, the conversion chance of people who get branding and conversion messages in this social network is 6 times higher. 
Writing personalized and targeted messages to each target audience can lead to effective lead generation and recruiting. Later in this article, we will look at the main situations where one message on LinkedIn can change your life (and not only yours).
The main rule of outreach is not to get upset if you are not answered for a long time or not answered at all. After all, the more people you reach, the higher the chance that you will get the desired result. Linked Helper is a unique opportunity to automate invites and custom messages beyond the social network's limit. 
For example, you can reach 700 people per week instead of the allowed 100 – this increases your chances of success by 7 times!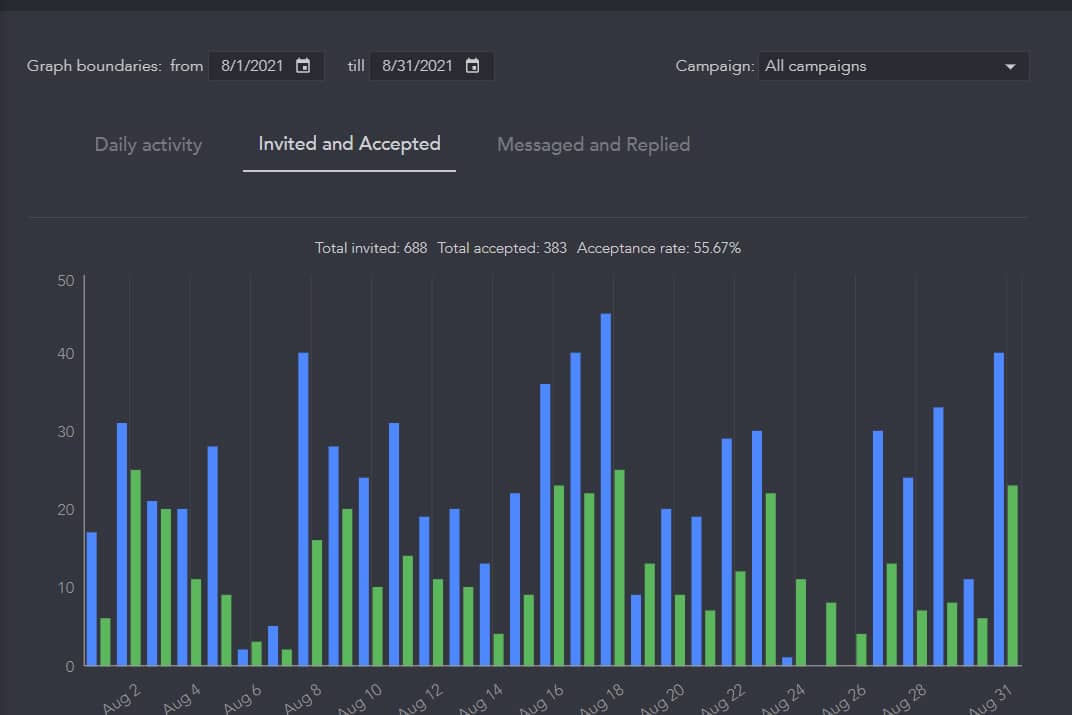 Starting a conversation through an auto-invite with a custom message occurs through an undocumented LinkedIn feature – read more in our article about networking.
How to start a conversation with a LinkedIn connection
Do you want your message to get read faster? Try the strategy described below. 
Increase the likelihood of a response to your message
Communication begins long before sending an invite with a message. It's easy to warm up the audience through auto-likes, comments, and following the people you need – all this can be automated by Linked Helper. By leaving such tokens of your interest, people will see your name in their notifications and will be able to learn more about you by visiting your account.
Personalization even with automation. This means that you should strive to reach out in a personal way to each target audience group, and mention their name and link to mutual acquaintances or their publications. Linked Helper allows you to use custom variables, if-then-else functions, which will tailor your outreach for each case.
Be active in niche groups. Creating content in groups and reacting to the content of your colleagues will help you make acquaintances even before a personal conversation. Starting a discussion under the posts, you will be more welcome in private messages – perhaps people themselves will seek to start a conversation with you.
Linked Helper will help you to automatically write to all group members via auto-action. This means that you can prepare a complete plan for marketing in groups and further communication in messages. At the same time, all the same actions, such as a set of messages, visits to member profiles, will be performed on your behalf by smart software.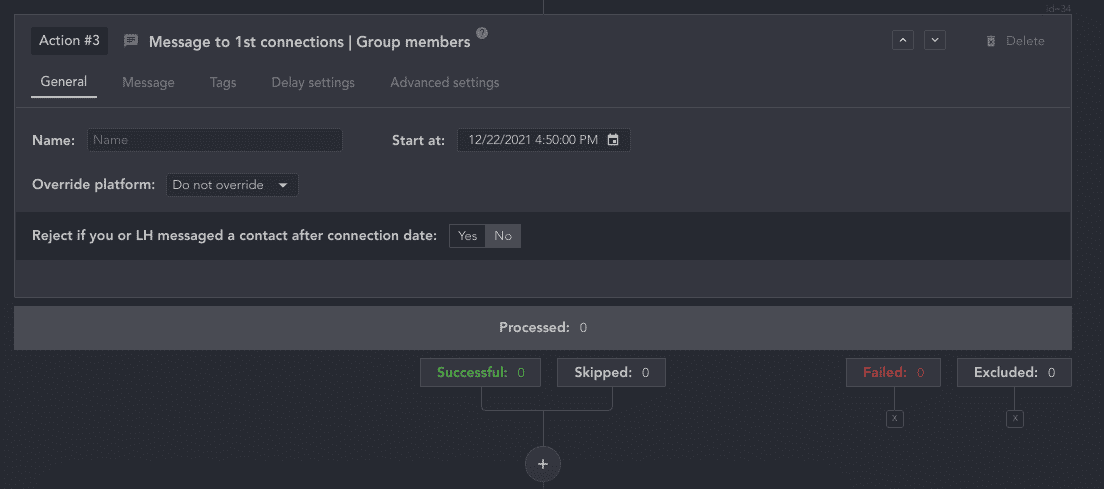 Conversation starters for top occasions 
Before we move on to examples, remember that an important resource for business people is their time. Therefore, your message should be extremely clear and express the main point from the first words. Do not spend too much time on introductory details. Straightforward, without aggressive selling, may be your best tactic.
 Think over what kind of message you would be most likely to reply to: a generic and monotonous template, or a message mentioning your article or a specific request or suggestion?
You can use the ideas below. But we advise you to use what suits your target audience in a particular case.
Welcome message for new connections:
Thank you for accepting my invitation!
I'm glad that now we will follow each other's updates.
Can I suggest that you read the article or study (you can share useful information for your niche).
After a personal meeting offline:
I remember your speech at (event name). I would love to become your connection.
We spoke in person at the (conference name and date). Let's continue our conversation online.
Mention what you are currently working on:
Since your position and name will be visible in the messenger anyway, you should not duplicate this data. 
I'm doing brand development (specify if possible) and would like to (give the reason for the message).
You can refer to the search results:
I was looking for PR specialists in the district of Stuttgart. Your account turned out to be at the top, and your experience in (company) is impressive. I'd like to talk about (your question).
Examples of messages for new connections:
Hello (name),
Yesterday, at an online event about (specify the topic), your opinion was very close to mine. I also think that (indicate your opinion on a narrow issue). In this regard, I would love to add you to my list of contacts. Here is a link to (indicate a link to your company, group, or article).
Cheers!
Dear (name),
I recently joined the group (name) and I see that you are also a member of it. I think you will be interested to learn about (you can give a link to useful information, event, or company). Let's stay connected to achieve (specify a possible common goal).
The name, mutual acquaintances, and other variables can change automatically depending on the lead. Explore messages examples in the article.  You just need to set the variables in the Linked Helper and let the software do the work of communication – everything will be done in the best possible way without your participation.
How to start a business conversation on LinkedIn
The tips that we have given in the section above will also be useful for business communications. However, if you want to capture an impressive number of leads and accelerate sales, you may need a full-fledged strategy for dialogue with potential clients.
This strategy will include not only single messages, but also events, marketing in groups, invitations to offline meetings and more. Linked Helper can automate every action according to your pipeline and implement custom delays between stages so that your outreach looks as natural and human as possible.
For example, you can use a set of auto-actions for a dialogue on the social network with customers:
Add leads to the Queue. Linked Helper has a funnel start – each campaign starts with adding leads to the Queue. This allows you to segment a narrow audience and sort people by LinkedIn filters.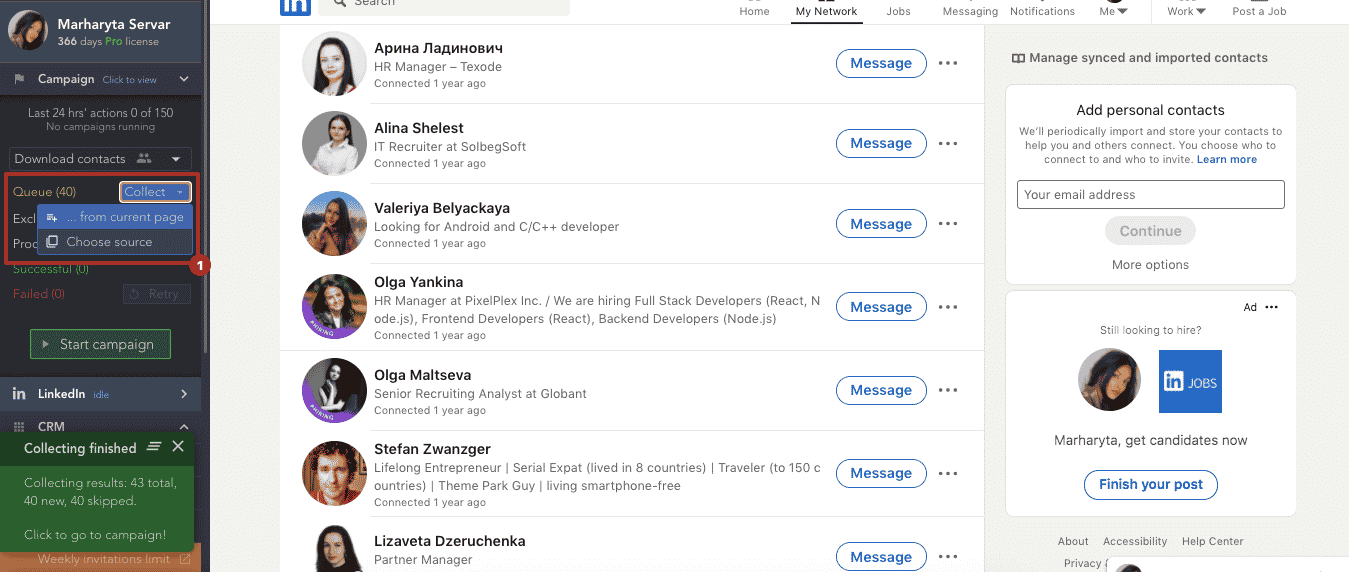 Like and comment on posts and articles. This action means that the software will visit each profile from the Queue list and pay attention to their content. This is already the beginning of a dialogue with the audience, after which you can move on to personal communication.
Find profile emails. You can add this action if you want to collect emails of everyone visited by the software for likes and comments. The email database can further enhance the effect of your outreach through cold emailing. And also emails and URLs to profiles will help to bypass the limit of 100 invites per week.
Send an invite + custom message. At this stage, the people added to the queue may already have visited your profile. You can even put an action delay in between the actions if you want to give them time to notice you.
The convenience of communicating through Linked Helper is that you can set up "Check for reply" to download the communication history with each lead. If the message was sent or received through the software, then the data will be in the table for export.
Having the texts of your messages and replies in a file, you can easily share them with the team or analyze lines through Excel.
How to start a conversation with a recruiter on LinkedIn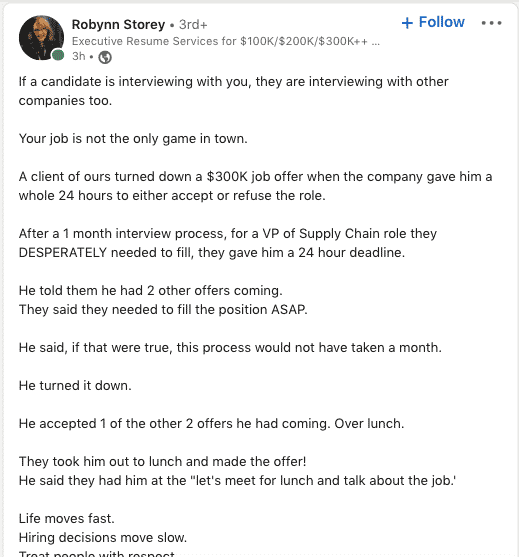 Communication with recruiters may be necessary if you are looking for an employee or looking for a job. By the way, the number and activity of recruiters in this social network is impressive, so you will probably be successful in your outreach.
If you are looking for a job through recruiters:
Update your profile with up-to-date facts and results. To search for a job, fill in all the text sections on your profile. After reading the summary, skills, and links to your work, the recruiter should have no doubts that you are the right candidate.
Life hack: Use as many keywords as you can in order to be found in searches. It can be your skills, the name of your academic field, or your rank. The use of keywords in your texts will help you rank for key positions in the social network and in global search.
Sort recruiters by narrow niche. This can help you and reduce your search time. By finding HR for the companies you want to work for, you will increase your chances of landing your dream job. To do this, you can select a niche in the LinkedIn filters and add up to 1,000 recruiters to the Queue in Linked Helper at the same time.
After segmentation, you can start an effective presentation with a connection request.
Reach up to 700 recruiters in a week. This will help you speed up your job search by almost 7 times compared to what LinkedIn offers (100 messages to 2nd and 3rd degree contacts per week). That is, in almost a week you can receive hundreds of job offers and choose those with whom you want to schedule an interview.
Life hack: When visiting a profile, Linked Helper will collect the recruiter's mail from the page. It can find it from the internal Email Finder or through integration with Snov.io. Having an email can help you double your outreach – you can set up bulk emailing from the data you download as a CSV.
What is important to mention in the text of the pitch?
Show that you know the market. You can start with a global problem in a niche or company that you can solve.
Recommendations will give you extra points. Indicate in the message that your profile contains testimonials from past clients and employers.
Provide a link to a detailed resume with contacts. In your message, try to keep the narrative casual, focusing only on the competitive advantages and highlights of your work. Details and dry facts can remain in your CV.
LinkedIn recruiter outreach example:
Hello (Name). I see that your company is looking for (specify your specialty). I have been following your activities for a long time and I believe I can improve your results in (insert real facts). As evidence, you will see reviews from my colleagues and companies on my page.
I would be happy to call you to discuss the details. Would you like to discuss our possible cooperation?
Finally 
As a result, your work on building business connections and strengthening your personal brand will become more effective. Now you know that there is a way to reach the right people at least 7 times faster through Linked Helper automation and bypassing the social network default limits.
You can test the main functions of Linked Helper for free for 14 days. You don't even need to enter payment details for the smart robot to start helping you at all stages of communication with your target audience.
If you want your dialogue with clients, employers, or employees to be effective, it must begin long before you hop into private messages. Consider the power of attention signals that you can provide in social networks, such as communication in comments, likes, and publications in groups. Communicating in comments and through content, your dialogue is visible to other users and serves as an advertisement for your personal or corporate brand. While messages will remain private and invisible to the entire audience, commenting may be the reason people will check on your profile.
Linked Helper will help you automate all types of communication available on LinkedIn – messages to group members, messages to 2nd and 3rd degree connections, Inmails, and public commenting and liking. By automating and reaching people in bulk, you can get a lot more positive responses and leads in less time.
Also, after each round of communication, you can analyze both the number of responses and the responses texts in your campaign. By downloading the texts of responses in a file, you can review hundreds at once instead of trying to scroll through hundreds of dialogues in the messenger window. By analyzing the results of your outreach, you will be able to identify the most appropriate messages and communication style for your niche