A webinar in 2022 is an essential marketing tool for B2B as it makes it easier to find and connect with customers around the world online. In fact, this is an excellent replacement for the usual offline meetups and conferences, with the bonus that you don't need to buy tickets or rent halls.
However, promoting a webinar on LinkedIn may not be such an easy task – you need to warm up the audience and get them to your business page in order for them to become interested in the webinar. Linked Helper is software for automating LinkedIn marketing that will help you establish connections before the event, organize auto invites, and maintain communication with participants after the event. Everything will happen within a minimum of time.
In order to invite people to events (webinars) via LinkedIn, you must be the event's creator. Also, the desired leads should be listed in your professional network.
Through Linked Helper, you can enhance the effect of event marketing:
Manage the database of participants directly in the Linked Helper CRM. If you regularly conduct online marketing activities on LinkedIn, then the database of leads and participants, and the history of messages with them, will be conveniently stored in one application. You can search and parse the profiles of users you want to see as participants.
Warm up and look for leads before the event. You can automatically send invites to a connection, like and comment on their posts, visit their profiles, subscribe, interact with group members, and much more. All these activities will help to get more attention and registrations for your events.
Follow-ups after the event. You can schedule messages in the software's action funnel for all participants that will arrive halfway through the webinar. Auto-messages in Linked Helper can be personalized – that is, the software will substitute the name of the person, their position, your mutual contacts, or other text. You will not have to spend a lot of time reminding yourself after the webinar or collecting feedback.
Explore the instructions for setting up an auto-action to invite to a webinar.
LinkedIn webinar promotion tip – invite LinkedIn users automatically
If you haven't tried LinkedIn webinars or events yet, there are many reasons to incorporate this into your strategy.
Quick collection of all your connections. When you invite people to an event on the social network, they receive a notification. If your contacts have studied your personal profile and company page, they may be happy to interact at the webinar.
Simple registration. The social network provides registration forms that will parse data from the pages of participants. This will help you gain more insights into your target audience in order to enhance your offer and product value for them.
Display in the event section. This is a kind of free promotion by the social network algorithm because webinars and events are visible to everyone interested in a certain niche. For example, the search page has a search by Events and many users can find your webinar by keywords on their own.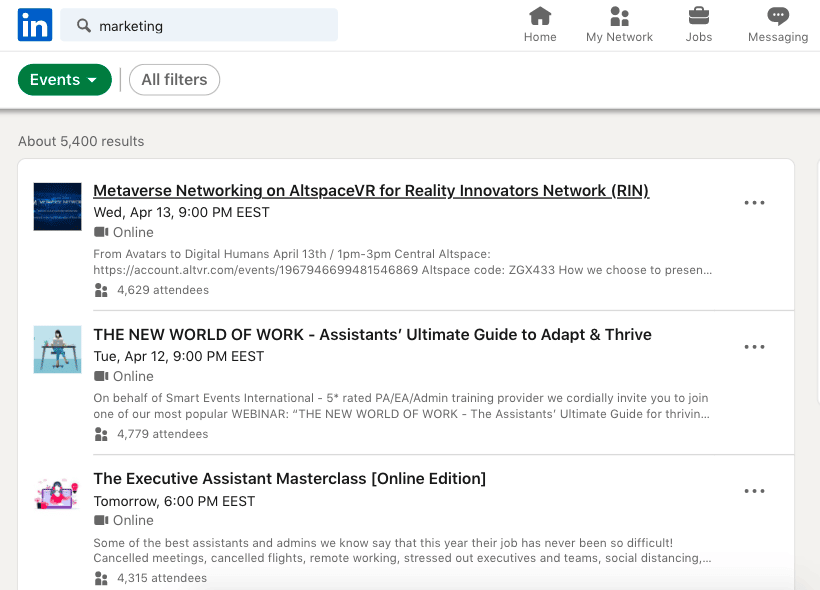 The streaming video can be reused. The broadcast will contain useful information about the product, answers to important questions from the audience, and the experience of specialists. All of this is content that you can use for a podcast, blog, or social media like YouTube or Twitter. Therefore, through the event on LinkedIn, you will solve several problems at once.
Linked Helper will help you build an audience and make the right connections before the event. To do this, use a funnel of several actions.
Download Linked Helper 2 and get 14-free trial right now
If you are not yet in our list of users, then join. We give you a trial version to start your experience with our LinkedIn tool.
#1 Start a People Campaign
A few weeks before the webinar, you can start warming up the audience. To do this, you can simply visit the profiles of leads and collect data about them in the CRM ("Visit and extract" action) or send out mass contact requests to connections of 2nd and 3rd degree. Often when people see that someone has visited their profile, they visit in return.
Visiting profiles through the Linked Helper software will also help to parse data from pages – emails, phone numbers, and text descriptions.
Read the detailed manual for expanding your network of contacts automatically.
When you get the right people in your professional network, you can start promoting the event. You will not be able to invite people outside your professional network to the event.
#2 Warm up attendees
Warming up may also include the following actions: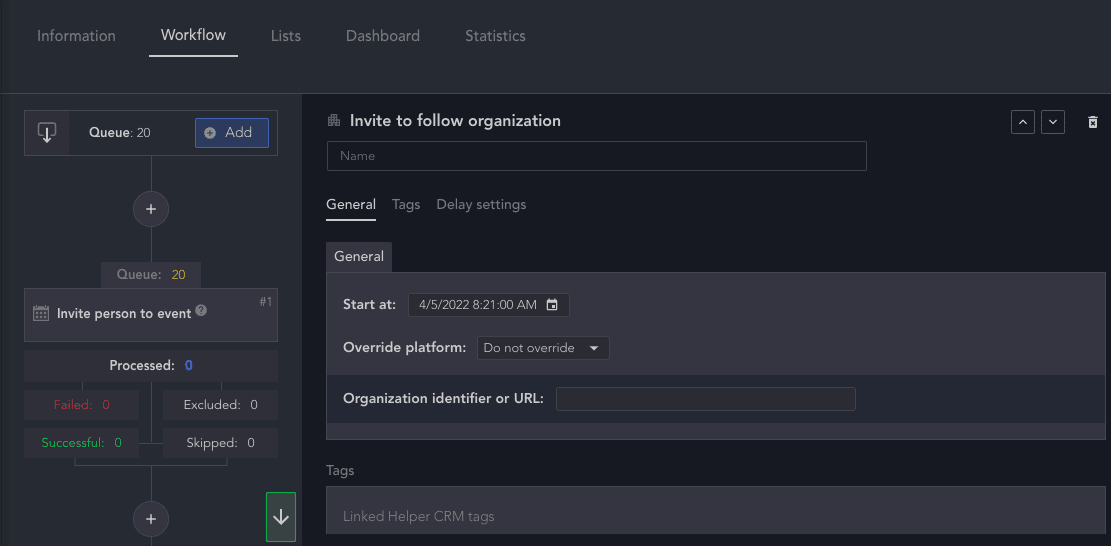 Invite to your company page. This will help people to learn more about your business offers and area of expertise before the event.
Write auto-messages. In a private message, you can draw more attention to the webinar and be sure that the person did not miss the notification.
Engage with leads' content. When you put likes and comments and are attentive to the activities of people, they will show interest in you in return.
LinkedIn event auto-invite feature
When you have reached the desired audience, use the quick auto-inviter to the online meetup. You can add this action to the previous funnel.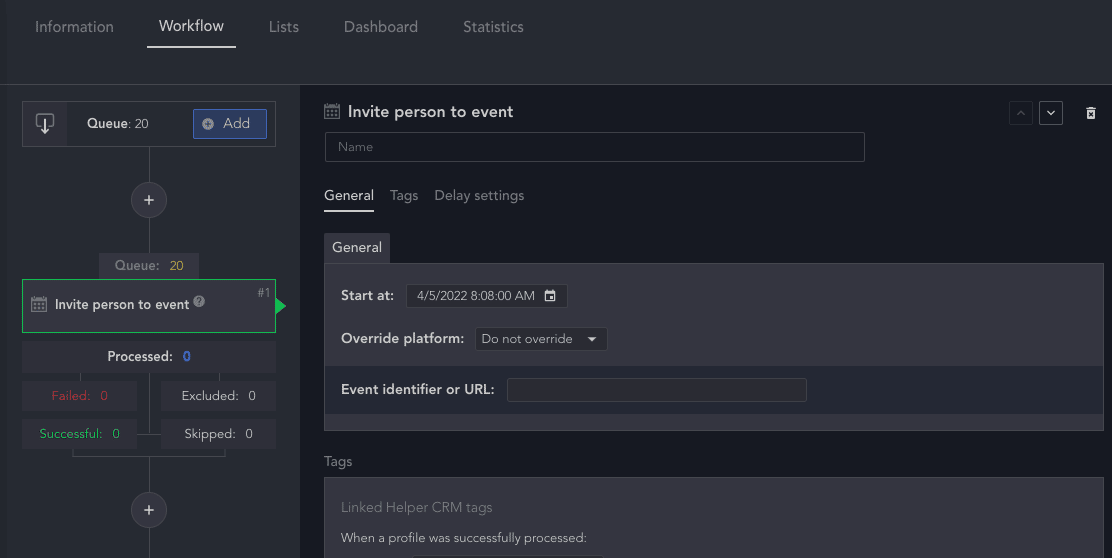 Note that the Queue list in the action funnel contains your potential leads. You can transfer people to the Queue list from various sources on the social network. These can be LinkedIn pages and Sales Navigator or Recruiter.
You can invite to the event only those who are your 1st degree contacts. Therefore, in the "Collect from LinkedIn" menu, select "My network page." It is also possible to import a CSV file if you have previously collected a lead database for the event. The tool can send out auto-invites through links to pages, they must be indicated in the table.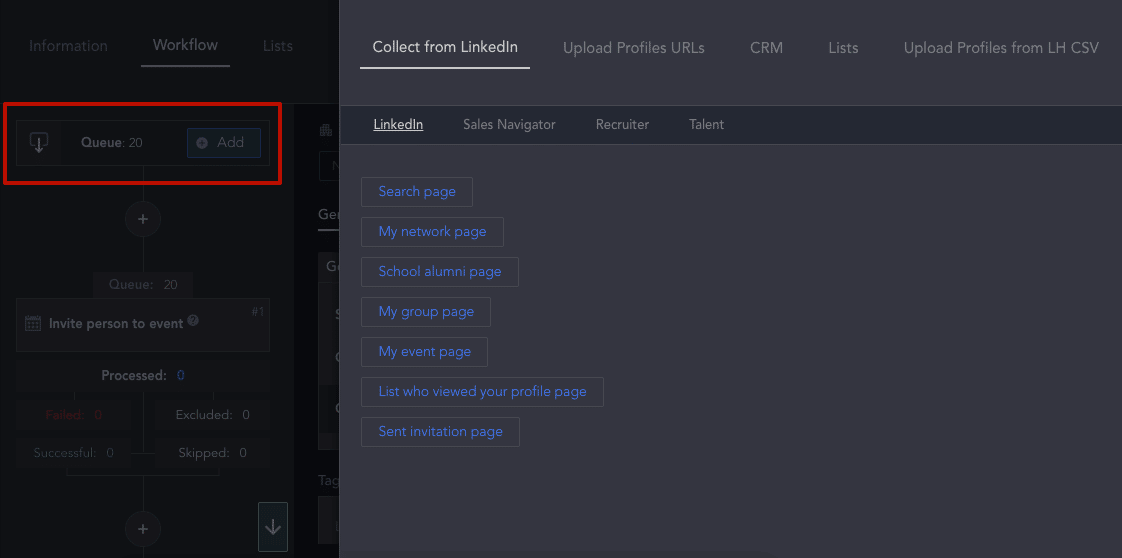 After there are people in the action queue and you have indicated the link to the event in the action settings, click on Start Campaign.
At the start of the campaign, you will see how a smart robot visits each potential participant, pauses as if a person, and presses the Invite button. You can manually set pauses before each step of the software, as if you were doing everything yourself while online.
To boost event marketing and invite more people outside of your professional network, you can target your marketing in groups. In the LinkedIn community, users gather in groups according to niche interests, and you need to select relevant groups with an active audience. Make a bright invitation post with a link focusing on the benefits of participation (i.e. access to unique content, a rare online guest, or the opportunity to get discounts). Also, remember the importance of a post-contact after the webinar and reminders in private messages. Linked Helper will help you automate most of your marketing tasks, and you can test useful features for free for 14 days.