Does your profile boast significant highlights of your career achievements? Not everyone enjoys flaunting their accomplishments to search engine algorithms or former colleagues. Let's ensure that your online presence aligns perfectly with your own preferences.
In this comprehensive guide, we have gathered the latest tips and tools for 2023 to help you in viewing LinkedIn profiles privately while also boosting your organic reach with an automatic tool. These strategies will not only protect your privacy but also open doors to valuable networking opportunities.
Key points
At the time of writing, users have only two options regarding account privacy. It can be public, meaning it will be indexed by search systems, or you can switch your whole profile to Private or make specific sections private. In this case, your data will not be publicly accessible outside of LinkedIn.
To set which elements should be accessible to others, use the "Edit public profile & URL" feature. Here you can also view your profile as someone else.
With a Sales Navigator subscription, you can now send messages to "open" accounts and send out bulk InMails through Linked Helper. Open profiles are easy to contact as they can receive messages from users outside of their network. This helps save a lot of time and effort while still allowing you to reach out to the right prospects.
Users that indicate their availability for job opportunities by adjusting their service categories are considered to be "Open" and can receive messages from those outside their network. Linked Helper campaigns can scrape these pages and help you make contact with them.
Having the ability to check out who has viewed your page can be a powerful asset, leading to amazing possibilities. You can use it for networking purposes or even potential collaborations.
Linked Helper is an automated tool that can boost the exposure of your account and lead to more views. By utilizing this tool, you will be able to draw more attention and improve engagement with potential customers or employers. In other words, it's a great way to prompt people to view your page.
Linked Helper makes it a breeze to kick off campaigns targeting people who have seen your account. Plus, you can automate such activities and make them effortless in no time!

Download Linked Helper 2 and get 14-free trial right now
If you are not yet in our list of users, then join. We give you a trial version to start your experience with our LinkedIn tool.
Who can see my LinkedIn profile?
You have the freedom to customize your profile to your exact specifications. You get to decide how best to display all your details for maximum impact.
You have the power to decide what to divulge from your account with custom settings. This is an effective way to keep your personal information out of public view and therefore maintain control over what outsiders see about you.
There are various settings you can pick.
Public profile is on:
This account can be viewed by others, even if they don't have LinkedIn accounts. Moreover, if you connect your account to other sites, users on those sites will also see your profile details.
You are able to control which sections of your page will be accessible to the public. This feature ensures extra privacy while ensuring relevant data is shared as required.
If you modify the viewability settings on your account, you can ensure that only those details you have allowed for non-LinkedIn users are shown to them.
Public profile is off:
If you don't want your page to be available to the public, disabling this setting is a great option. This will make sure that others outside of your trusted network can't see your profile and also stop it from appearing in any online search results.
The account settings make it easy to customize how exposed you are online and keep your data secure.
Want to control the amount of publicity your account has online? Just navigate to the "Settings & Privacy" → "Visibility" tab with different choices that allow you to customize your profile according to your preferences.
You have the option to control who can view your email address and whether it can be exported or not.
Familiarize yourself with what information is viewable on your profile and how to make it invisible if you prefer.
Open Profile
As a premium user, you can unlock the Open Profile feature. It allows people to easily connect with you without any restrictions.
When this setting is enabled, anyone has the opportunity to InMail you without paying any credits from a basic account.
How to view your LinkedIn profile as someone else
How to view a LinkedIn profile as a viewer
Checking out your page appearance is simple to do.
Just go to your homepage and you'll spot the account picture on the top right side. Clicking on it will take you directly to your personal page.
To carry on, click the "Edit public profile & URL" button.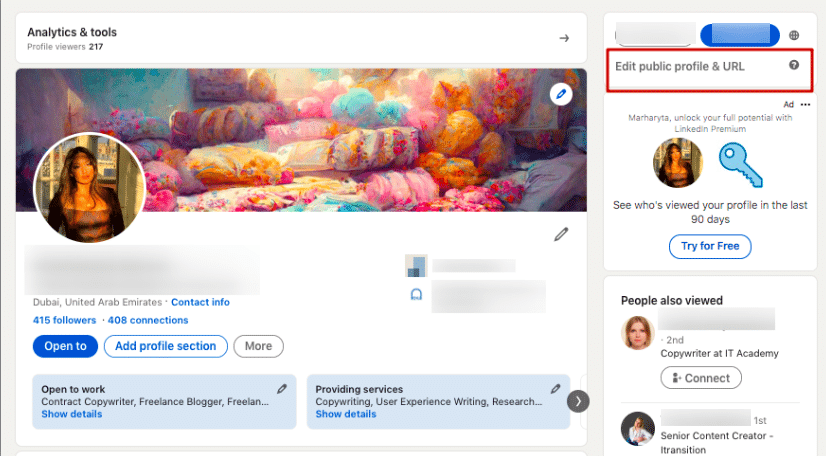 You'll be able to preview what it looks like for anyone visiting from outside the social media site and make any changes there too. Don't forget to save your changes when you're done!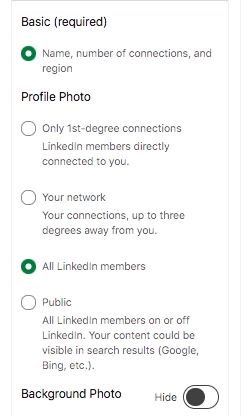 With this preview, you'll be able to see your LinkedIn profile as others see it when it's indexed and found by a search engine, allowing you to make any necessary changes.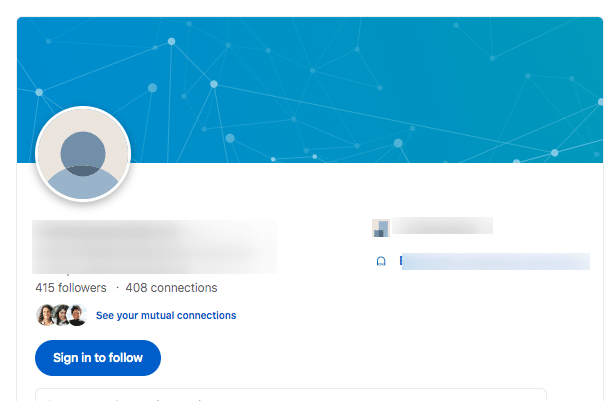 Your public page will always feature your basic information. However, if you want to protect it from any outside scrolling or indexing applications, you simply make it inaccessible.
How to see who viewed your LinkedIn
Does LinkedIn notify others when you view their profile? With the "Who's viewed your profile" menu item, you can discover interested visitors. But only those who don't browse with incognito mode.
Does LinkedIn show when you view a profile?
You can get different info about visitors to your page using different LinkedIn service plans.
For Basic (free) account holders
Data about who views your account is provided for the past 90 days, with the five most recent visitors being highlighted in this snapshot. This insightful display presents users with valuable information:
the number of visitors
views (according to the LinkedIn algorithm)
details of their workplaces
the paths that led them to the page
their professional designations
Premium account holders
Premium customers receive a lot of beneficial features. In addition to viewing the full list of account viewers within the past 90 days, viewers' behavior can be tracked and analyzed with the help of captivating graphs that show an overview of their trends over time. These insights are priceless in helping you make better business decisions.
Note: Users who are privacy-minded may choose to remain anonymous when browsing the internet. When someone chooses private mode or has a private page, their data stays hidden from other users, even Premium account holders.
How to track viewers of your account
Start your journey of exploration by taking these straightforward steps:
Choose the "Me" icon → "View profile."
Pick "View Profile."
Proceed to the "Analytics & tools" module.
Find the relevant viewer count.
This will redirect you to the relevant dataset.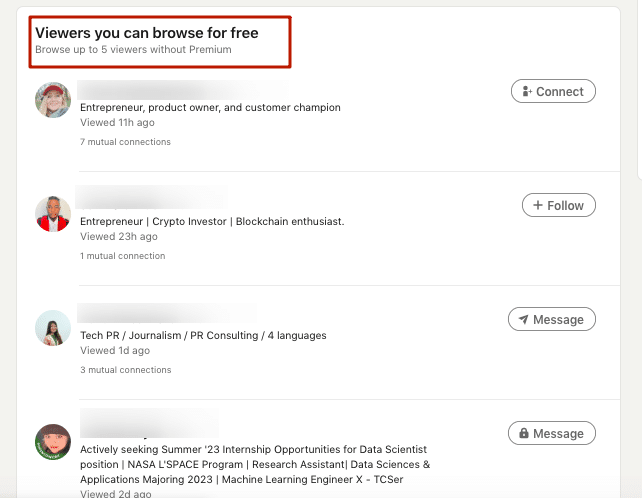 How to turn off the LinkedIn profile view feature
If you want to avoid letting other users know what you have been searching for, it is very easy to customize your settings.
Here's how:
Head over to the "Me" menu item.
Find "Settings & Privacy."
Choose "Visibility" → "Profile viewing options."
Carefully select the mode that suits you best. You can decide whether you want to be accessible to other users or remain incognito, while controlling the information they are allowed to see about you. If preserving your data is a priority, then Private mode would be an ideal way to look at someone's LinkedIn without them knowing.
Can a LinkedIn view be done anonymously?
LinkedIn users can be anonymous when they view content.
Be anonymous on LinkedIn: How to view LinkedIn profiles anonymously
To protect your identity anonymity, consider the expert tips below:
Try Private mode: You can scroll pages discreetly and protect your identity by using the instruction presented earlier. Experiment with LinkedIn's ghost mode, and take advantage of confidential searches!
Embrace semi-private browsing: This method ensures your privacy while still showing some important details, like a bit about your education.
Be mindful of who you are connected with: You can exercise control by limiting access to your account and keeping the information secure.
Create an anonymous page: Consider setting up an account where you don't disclose personal data, such as your email, job specifics, or contact information. This can be particularly useful for research purposes or when prioritizing privacy.
Browse without an account: You don't need to register for anything when you want to explore public pages. Additionally, it helps in cutting down time by avoiding the need to log in.
Search LinkedIn in Private (Anonymous) Mode – details
With Private search, you can discover accounts incognito. This way, you don't have to worry about any other person seeing that it was you who checked their page as your identity will remain hidden.
If you need to view LinkedIn profiles anonymously, take note of the following characteristics of different packages in Private Mode:
Having a free page on the platform still provides you with extra privacy through secure browsing. However, this does mean that you won't be able to track who has seen your account anymore.
Premium users can gain access to an exclusive list of people who have visited their page despite engaging in Private Mode. This is one of the major advantages of having a premium package.
How to view a LinkedIn profile without an account
Can you view LinkedIn profiles without an account? There are alternative methods for viewing LinkedIn profiles without signing in.
Web Search – Basic googling can guide you to individuals' public profiles. If you make the effort to search for experts in a particular field, the online indexes should produce a cached edition of their profiles.
Other Social Media – Try searching for their pages on other social networks and personal websites. Taking this extra step helps you maximize your chances of discovering more information about the person or company you're interested in.
Professional Websites and Directories – It might just lead you to the direct link that will take you straight to their page.
By URLs – Sometimes, individuals share direct URLs to their LinkedIn accounts in various online contexts, such as forum threads, blog comments, or email signatures.
How to search privately on LinkedIn
How to browse LinkedIn privately: security checklist
Valuing your privacy is of utmost importance, which is why it's crucial to take the necessary steps to ensure it. For instance:
Utilize private browsing: It stops web browsers from storing any browsing history or cookies, thus giving you more control and assurance of secure online activity.
Log out after each session: It's a great way to protect yourself from any potential unauthorized access.
Clear cookies and cache: Now any data gathered by LinkedIn is completely deleted from your device. This will also guarantee that you are accessing up-to-date information on the website.
Customize privacy settings: Ensure your privacy preferences are set correctly by customizing the settings to match the amount of privacy you'd like.
Be cautious with personal information: Provide only the necessary information and refrain from disclosing sensitive data that can compromise your privacy.
Review third-party apps: Before installing any apps, make sure they comply with your privacy settings and security requirements.
It helps to encrypt your current location, making it harder for third-parties to gain access to your data. Taking precautionary measures like these are critical for being able to use digital platforms with confidence and peace of mind.
Methods for conducting LinkedIn profile search without login
You can easily use LinkedIn search without having to log in. While certain techniques involve manual processes, like URL hunting, these don't offer the ability to filter results. As such, Google is probably the best choice out there for browsing for people.
Concise tips for X-ray searching
Employ the search query "site:linkedin.com/in/": By utilizing this query, you can narrow down the results to LinkedIn pages.
For example, type: site:linkedin.com/in/marketing manager
Witness as Google displays a collection of LinkedIn pages that include the term "marketing manager" in their page texts.
Use the query "intitle:[keyword]" in combination with "site:linkedin.com/in/" to find individuals who are currently working in a particular position. Use this type of search when you need people who are currently holding that position, as a keyword search may show those who previously worked in that niche.
For example, type: intitle:graphic designer site:linkedin.com/in/
Google will show pages with "graphic designer" in the title.
Employ boolean search techniques with logical connectors (AND, OR).
For example, type: software engineer AND (Java OR Python) site:linkedin.com/in/
Google will present accounts that include "software engineer" and either "Java" or "Python" in their content.
Try some more advanced search combinations you can use to find precisely the leads you need
For example, type: site:linkedin.com/in/ intitle:"Senior" AND ("Business Development" OR "Account Management") AND ("cloud computing" OR "cybersecurity")
This query will specifically look for LinkedIn profiles that include the word "Senior" in the title, and either "Business Development" or "Account Management" as keywords. Additionally, it will include profiles that mention either "cloud computing" or "cybersecurity" as keywords. The "site:linkedin.com/in/" restricts the search to LinkedIn profiles.
Here are more tips to use complex browsing.
Check our post about X-ray search.
LinkedIn profile picture viewer
Examining LinkedIn primary images can be accomplished through different methods. For instance:
Browser extensions such as the Profile Picture Downloader for LinkedIn can make life much easier. It helps you access pictures from this social media quickly and easily, so you can use them for whatever purpose you need.
Linked Helper's CSV export feature makes it easy to access main picture URLs. All you have to do is open the URL provided in the exported document, and you can get a discreet view of the respective person's photo. This saves a lot of time.
Massive profile views + export: your secret tool for lead generation
Linked Helper's Visit & Extract action is an invaluable resource when it comes to maximizing lead generation. It allows users to fetch vital data – including details of 3rd degree connections – with hardly any manual clicks, so you can save time and energy.
Automated Viewing at Scale
The automated account visits allow you to effortlessly work through pages collecting data and then create an efficient sequence of further actions that will maximize your productivity. You can increase the impact of your outreach efforts by connecting with these leads via auto-messages.
Profile Contact Information at Your Fingertips
LinkedIn's CSV file may offer some insight into your 1st degree connections, but it leaves out important information like email addresses and phone numbers. Linked Helper conveniently fills in the gap by easily collecting a comprehensive dataset from your 1st degree connections' pages.
Advanced Settings for Expanding Your Reach
This exceptional solution not only expands your professional network but also assists you in discovering and retrieving email addresses from your connections, whether they are in your 1st, 2nd, or 3rd degree network. It employs an integrated email finder along with the robust Snov.io API, enabling swift and accurate searches across extensive databases.
Learn how to launch automated profile views in this simple manual.