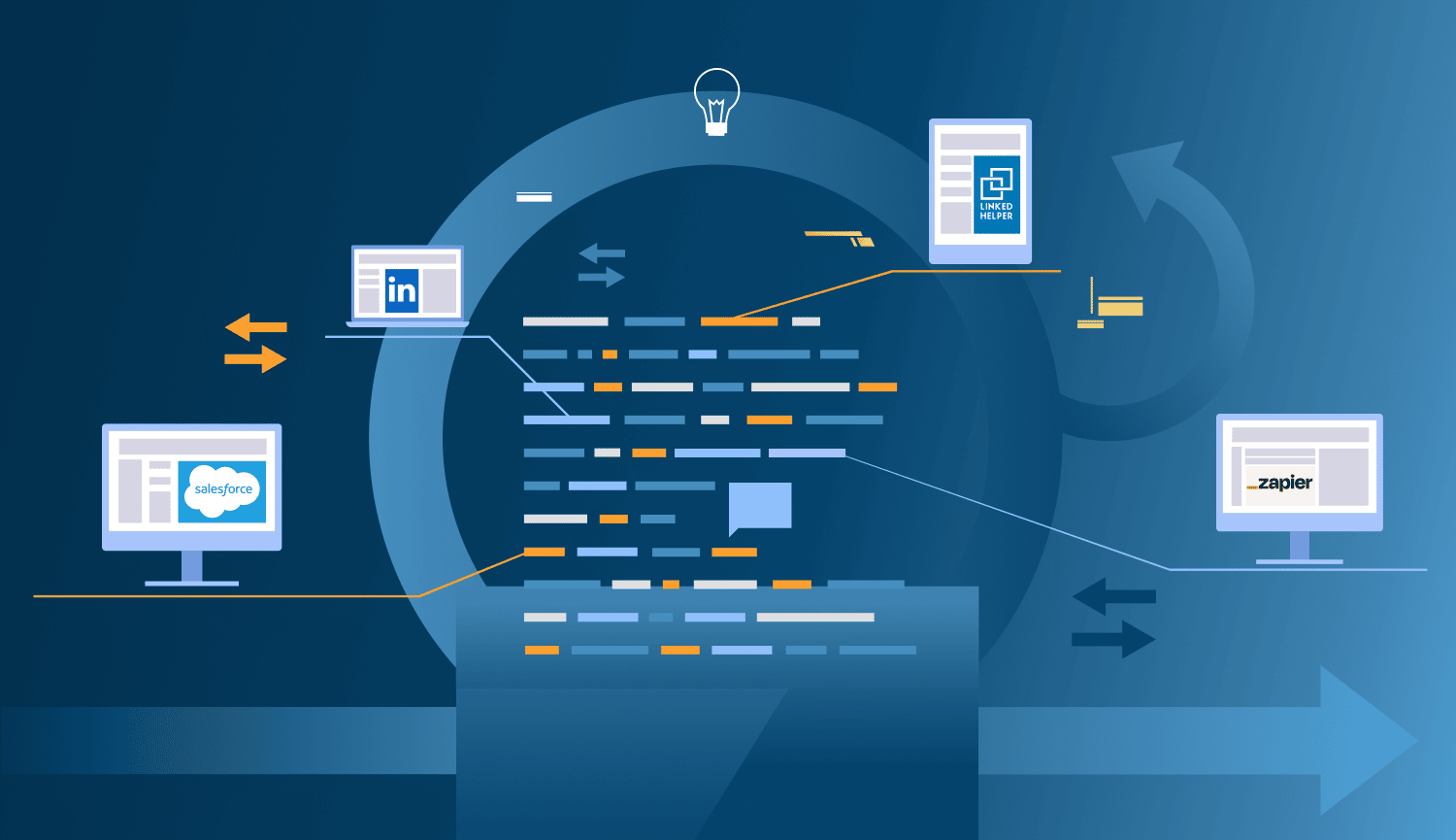 Many IT businesses operate through the Salesforce CRM. In 2021, the market share of this company in the CRM market was 19.8%. As you try to create a convenient environment for sales and communication with customers, you may have wondered – is it possible to integrate lead generation and the following funnel processes in a few clicks?
Linked Helper can be your best solution for LinkedIn Salesforce integration because it allows you to send the lists of leads received from the social network directly to the CRM. This integration works through Zapier and solves one major problem. The fact is that marketers who work in LinkedIn have the opportunity to set up the transfer of leads only if they connect the Sales Navigator Advanced or Advanced Plus solutions.
That is, direct integration of Basic LinkedIn or any other plan is possible only through third-party services like Linked Helper. Doing so gives you more freedom in terms of which solutions to use for social media lead generation.
Working through Linked Helper will help you automate the process of warming up the audience before you start working with them through Salesforce. For example, you might be a realtor looking for clients on LinkedIn. Before a lead appears in the CRM for sales managers, the marketing team can establish warmer contact on the social network. Linked Helper automates drip campaigns that can consist of interactions, message chains, auto-invites, and other critical actions. Selling online is getting harder. Become your audience's friend and you will never have to sell – instead you may become their trusted acquaintance through a phased communication process.
Next you will learn:
The best lead generation tool that will help you not only build a database of contacts but also establish brand engagement and development on LinkedIn. Read LinkedIn for beginners: Full guide to grow 7X faster with an automation toolkit.
The simple instructions for syncing LinkedIn and Salesforce and you will be able to try it free for 14 days.
Why searching for leads through Linked Helper is more effective than manual work in the social network or using other scraping tools.
By the way, the difference in price between Linked Helper and Sales Navigator allows you to transfer data to Salesforce almost 10 times CHEAPER! You pay $8.25 per month (with a yearly license) for using Linked Helper with a built-in lead transfer tool (or $15 monthly) while the Sales Navigator package costs $149 per month.
If you want to use webhook actions without limits, try Linked Helper Pro ($24.75 for an annual subscription or $45 for a monthly subscription). In this case, you will also be able to send messages via webhooks.
Best tool to import leads from LinkedIn to Salesforce
Zapier is a service that allows you to combine the work of several services. You can use it to transfer data from Linked Helper to Salesforce or any other CRM. Setting up work and transferring data will take no more than 15 minutes. By setting up the services, you can mine the data that is available on social networks to generate leads and study customers. So let's explore how to connect the best LinkedIn automation tool to Salesforce.
Step #1 – Create a Zapier profile
You can explore the interface of the service for free. Creating a profile takes less than a minute. To get started, you usually need to create a Zap, which is essentially a link between two applications. You can enter the names of the applications yourself to see the options for their interaction.

But for a quick setup with Linked Helper, you can use the existing Zap at this link.
Follow the link and open the Catch Hook menu in your browser. This is where you will need to copy the link in step #3.

A more detailed step-by-step guide to manual configuration is available in our knowledge base.
Step #2 – Select your audience in the campaign
You can use Linked Helper campaigns to collect users from various social network resources, including by simply inserting a link to the desired page. Through the search, you can filter leads from the search results. Collecting leads in the Campaign Queue takes a few minutes. But if you want to transfer all the data from your account to a table for synchronization with Salesforce, then you need to run the "Visit and Extract" campaign.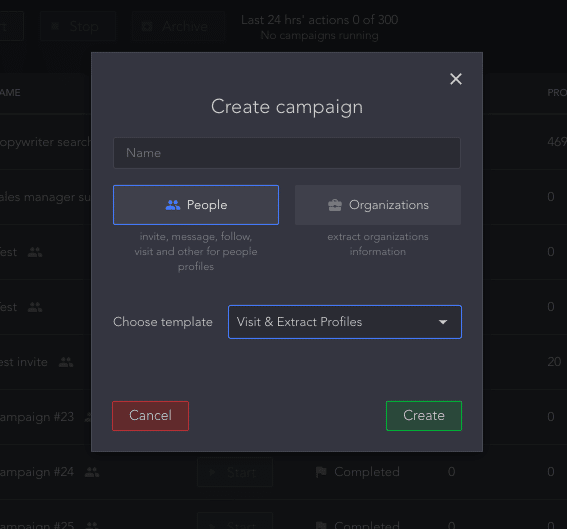 The audience that you add to the Queue can be transferred to Salesforce.
Step #3 – Create a webhook through the Linked Helper action
After parsing and visiting profiles, the software will be ready to collect a database for integration. There is a Send person to webhook action for this. It should be added next after the visit.
Next, you will be offered settings for the table and data integration. You have to copy the webhook URL from your workspace and paste it into Linked Helper. Click on Save and continue.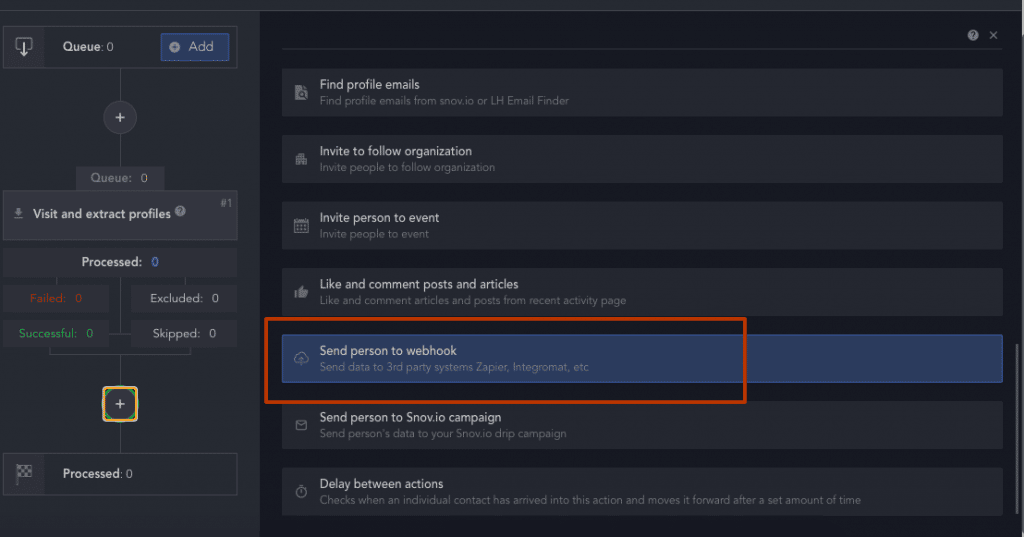 Even if you've previously run Linked Helper campaigns and collected relevant lead sets, you can transfer them in the same way. That is, just add the above action after the Auto-Invite, Visit, or Auto-Message actions.
Click to launch the campaign and wait for the software to successfully process only one lead in this action. Successful status must have at least one profile in this campaign. This will be enough to understand in test mode whether the link for communication between applications works.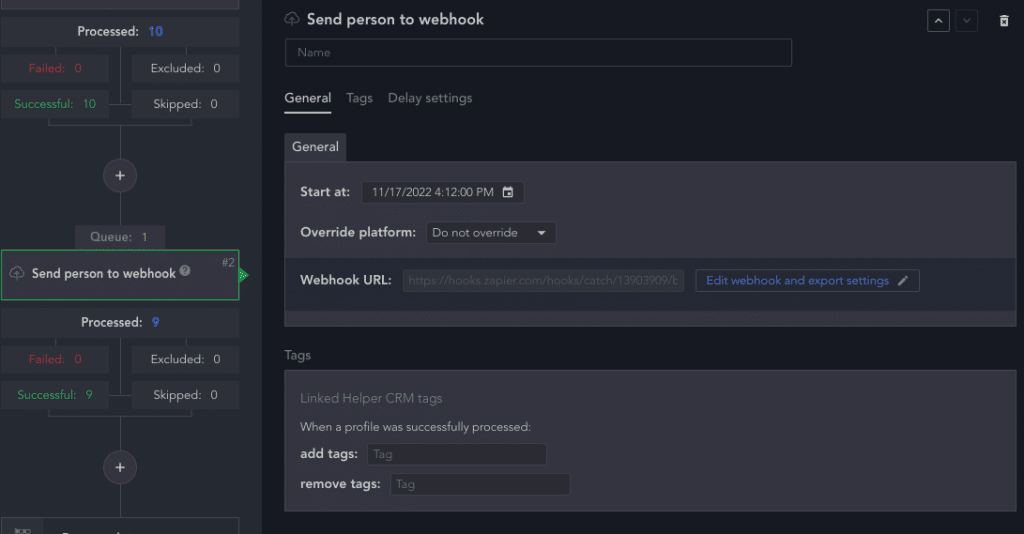 Step #4 – Trigger Test and Login
When you see at least one lead in the Linked Helper Send person to webhook action, it means it's time to finish the integration. If there is only one action in the campaign, then the transfer to Successful can happen very quickly. But don't wait for all leads to be transferred from the Queue. For now, pause the campaign and reopen the Zapier window from where you copied the link. Click on the menu item "Test trigger."

As we can see, in a matter of seconds, the integration worked and you have one step left to see the lead from LinkedIn in the Salesforce panel. To do this, go to the second section on this page – "Create Record in Salesforce."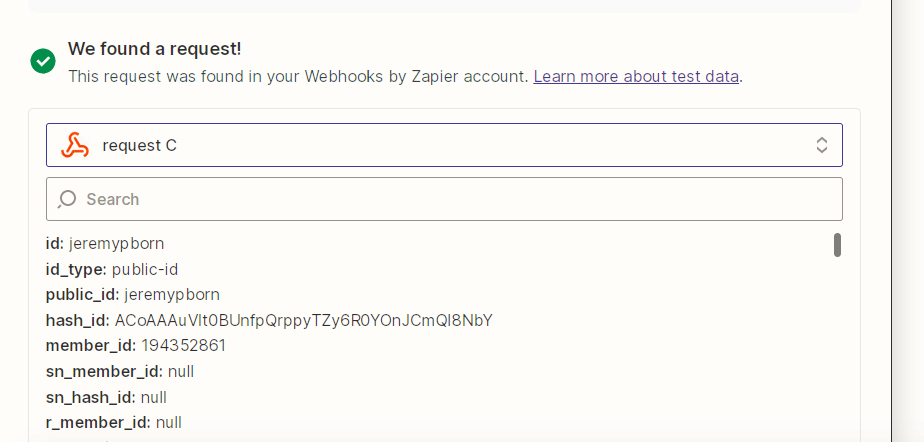 Use the authorization data in your personal account in the CRM and select the Contact line from the Salesforce Object menu.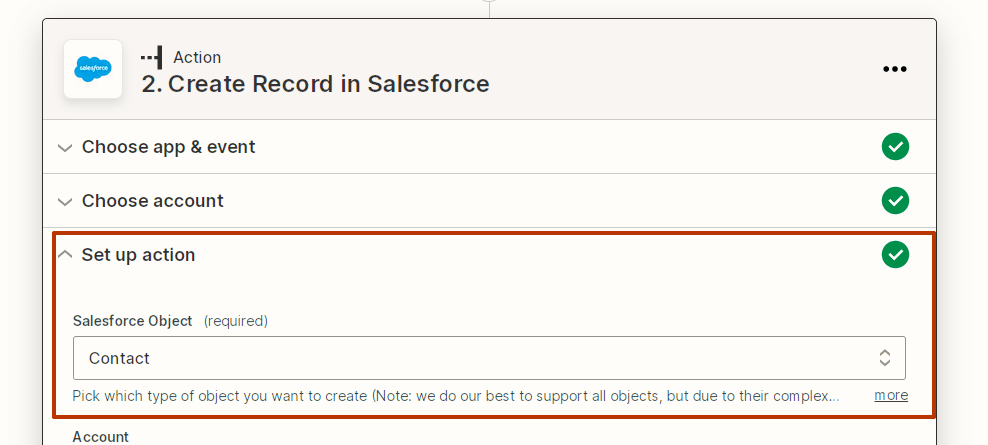 Run the test, and if the steps are followed correctly the necessary leads will be displayed in your CRM.

In addition to sending contacts, you can send custom variables or your clients' replies in messages. Linked Helper can collect replies in the "Check for replies" action. Conveniently, only messages from leads can be transferred to the CRM in order to reduce the amount of information. Therefore, after the outreach drip campaign, you can easily get the results immediately in the CRM for the next steps of the funnel. LinkedIn integration with Salesforce will be available for this set of users you added to the campaign!
Connect with LinkedIn leads before sending them to Salesforce
Setting up LinkedIn and Salesforce can be a key and turning point in your marketing. Often, marketers and businesses are willing to pay to get a database of ready-made leads, as well as spend a lot of money on online advertising. At the same time, lead generation and active prospecting on LinkedIn can be a way to find a narrow audience segment.
#1 You can use narrow targeting social media filters
When you set up ads on search engines or social networks, you often act blindly. Because you do not always have the opportunity to choose a clear segment. You can specify narrow social characteristics, but LinkedIn filters will help you find specific profiles of people under the most targeted filters (especially when searching in Sales Navigator).
#2 You get to explore the client better
By connecting LinkedIn and Salesforce, you will not sell blindly. When you have a dossier on the lead, their interests and experience, you can better compose an offer or be more confident in negotiations. Also, the pitch of your company can become more adapted to the portrait of the target audience.
#3 You can show the human face of your brand
Sometimes it can be important for a client to see that there is a real person behind the business and not a form and a sales manager on the other end of the line. Therefore, by promoting the personal profiles of your team members on social networks, you can receive leads that will treat you with confidence. They will immediately see reviews on the social network and live comments from other customers, which will serve as a sales catalyst.
Is Linked Helper & Salesforce the best pair?
Yes, Linked Helper is one of the most secure standalone browser-based software tools that automates LinkedIn lead generation and marketing. Unlike its competitors, this tool has passed several automation detection tests and has verified reviews and customers from the world's largest companies.
Complete security in data collection
When scraping profiles and data, the software behaves like a normal user. It literally opens each account from the search bar, types the name you need, goes to the account and copies the data. In this case, manual copying would take 10 times longer. Unlike a browser extension, Linked Helper does not embed code on the social network page, which means it will not be recognized. Read a detailed breakdown of scraping in Linked Helper on our blog.
Fast & reliable workflow
You can quickly set up the integration and transfer only part of the data, avoiding unnecessary leads and information. Also, you are not limited to using the Salesforce CRM. This software also contains an internal CRM and will store lead data that you find. Therefore, even if you decide to change the CRM or change the company, your customer base will remain with you in Linked Helper. And through webhooks, it can be transferred to another service for customer management.
More than just integration
Linked Helper helps not only to reach the right segment of the target audience but also to get the maximum effect from the drip campaign. The fact is that the search for contacts and outreach may bring less effect than the long-term maintenance of friendship. Becoming a connection on LinkedIn, a person may not immediately become a lead and a sale. But watching you, on the news and attending events, they may want your service in the long run. Therefore, in 2023, it is important to develop your image on LinkedIn (if your target leads live there). This is exactly what Linked Helper can do.
Is it easy to generate leads from LinkedIn for Salesforce?
It's easier than you think when you have Linked Helper. In addition, you do not risk anything if you try this service for your business now, because the trial period is free, like the trial Sales Navigator.
Installation
The software can work with any known operating system. Also, downloading and authorization are simple and take no more than 10 minutes. Immediately sign in to the profile from which you want to search and connect with leads. Sometimes it's better to do it through the Sales Navigator because it has improved filters and a dashboard for searching and sorting users. If you link an empty credit card as a payment method at the start of the trial, you can extend the trial period for a second month. This is enough time to collect leads. Then you can continue to work with them through LinkedIn Basic.
Campaign Creation
This is the first step towards your leads. Campaigns in the software are built from actions, all actions are executed with the profiles that you add to the Queue. This must be done at the top of the funnel so that the software performs actions with a specific audience. You can search for any people on the social network, create custom lists or collect only those who liked a certain post.
For example, you can ask for a like and a comment in the text of a post in exchange for a lead magnet (infographic, research). And the next action after scraping is to send an auto message to everyone from the list via Linked Helper. You only need to set up the initial campaign! Explore more about Best LinkedIn automation bot to send mass messages & grow your network.
Engagement & warm-up
The importance of being present and simply interacting on social media before sending out cold emails will only grow in 2023. The percentage of those who take advertising in the feed seriously is lower and people are looking for sincere interaction. Therefore, before active sales, the image of your company on LinkedIn and the account of the contact person must be fully formed.
See examples of filling out a person's profile and creating a business page.
Engagement can include simple steps such as:
Like and comment – Now you are already displayed in the notifications of your leads. They know your name and may even remember you. That is, they will be more ready to receive a message from you.
Message with an invite – Do not use template text in these 300 characters. Your presentation is already underway, so please be as brief as you can and be helpful.
Welcome message – This text will be received by everyone who accepts the invite. It's not always worth making the send instant. You can pause for a few days in Linked Helper. And in this text it is better to describe your offer and even give a link to a website with a personal picture via Uclick.
Event invitations – Going live with your clients is convenient on LinkedIn. And the software helps to make such events successful, from pre-preparation, to sending an invite to the event, to creating a message chain for the event participants.
Read how drip campaigns work in our blog. As a result, the process of working with a client can begin with a like on LinkedIn and slowly move on to the sales team, which is waiting for fresh leads to be submitted. Therefore, when sending already warmed-up leads, you will get more conversions than when collecting data from cold forms.