In 2021 most sales occur on the web. For this reason, a sales team needs accurate customer information for a personal approach, an automated sequence of interactions, and well-planned communications to sell more effectively. According to LinkedIn statistics, 64% of B2B decision-makers will not respond to a sales specialist if the request is not personalized. Since LinkedIn is the source of 80% of all B2B leads generated across social networks, to increase online sales, your company will benefit from the data that can be extracted from LinkedIn.
But how do you amass customer and market data in a short time? It is possible to modernize your search for meaningful sales data and your communication with leads. To achieve commercial success, your sales managers should be equipped with sales enablement apps.
Essentially, sales enablement is about providing your team members the tools they need for the tasks they perform. It can be in the form of coaching or consulting, and, most importantly, the automated tools they need in order to be successful and increase income.
At the moment, there are a myriad of apps that help to survive in conditions of wild competition, and the choice of software will depend on the niche of your business, the scale of the business, and the tasks you need to perform. In this article, you will:
Uncover what types of digital sales enablement tools are trending now to focus on the market based on your needs and choose what suits your sales funnel. Sales improvement strives to guarantee that managers possess the skills and expertise required for maximum interaction with each buyer.
Explore the features of a full-circle sales enablement platform based on LinkedIn. We'll overview the functionality of Linked Helper, which is the best sales enablement software for all stages of the marketing funnel – from researching leads and markets to targeted auto follow-ups.
Determine how to estimate sales enablement. You will discover which KPIs to pay attention to when improving businesses via special platforms.
Types of sales enablement tools by purposes
Most of the platforms are focused on speeding up certain sales managers' tasks, such as lead generation, creating materials for presentations, and expert and up-to-date communication. The fact is that the toolkit for each individual or company will be different and the specifics and complexity will depend on the scale and niche of the business.
In order to give you a better sense of the services, we will present them according to their functionality. There are five principal specialties, each of which impacts the sales process and, hence, can boost your revenue. These apps can optimize and automate multiple sales duties at all stages.
Download Linked Helper 2 and get 14-free trial right now
If you are not yet in our list of users, then join. We give you a trial version to start your experience with our LinkedIn tool.
1. Data gathering and systematization about consumers & competitors
These apps help salespeople to research structured data that should be applied for targeting and personalized outreach.
The fact is that social networks, particularly LinkedIn, store a huge amount of data about your potential customers and organizations, which helps to analyze the market, come up with a USP, and thereby increase the chances of a sale.
For example, in LinkedIn, you can find a huge array of information, such as:
Names of C-suite members and decision-makers for personalization.
Contact details such as emails that you can use for reaching out.
Data about organizations to dive deeper into your industry.
However, surfing this social platform manually to discover all the data will require spending time that you can better devote to sales. Consequently, if you set up Linked Helper, you will be able to systematize and extract the necessary information about potential customers and companies right from the search page. We'll show you how to download a convenient spreadsheet with the data that you can use and share with colleagues. You can dive deeper LinkedIn boolean search hacks in our blog.
Examples of Sales enablement tools for collecting data: Linked Helper, Collective[i], ClickPoint. 
2. Automatic interactions for effective communication
For this purpose, you will need to use a service that automates communication and engagement with potential customers and partners. These tools work like CRM systems, helping you to interact with prospects personally without having to switch between a lot of tabs or spreadsheets with contacts, emails, and scripts since everything you need for communication will be stored in the system.
Personalized customer engagement in social networks. For example, Linked Helper will automatically send invitations to accounts according to the specified categories and join thematic groups. Also, the software will interact with the content of potential clients, which will help you to be constantly in sight of customers and arouse their interest in your product or service. This type of communication with customers is personalized and will most likely build confidence in your offer. What's more, these tools support creating message sequences and will reply to inquiries on a sales manager's behalf.
Automation of calls/emails. Such solutions assist sales executives in creating a series of emails and scheduling calls. These services are synchronized with your email and support automatic responses to emails and sending mass follow-ups on time at each stage of the marketing funnel. Additionally, some of these tools aim to help to efficiently collect customer feedback.
Systematized information about interactions. These services allow you to categorize clients, assign tags to them and leave notes about each client, so the entire history of interactions is synchronized with the CRM. For example, these applications allow you to download the history of correspondence with customers, which helps to effectively analyze campaigns and mailings and work out objections.
As a result, utilizing these programs will strengthen conversations with clients with less stress.
Top sales enablement tools for this task: Linked Helper, HubSpot, Autoclose. 
3. Stimulating deals
Since the sales cycle plays a vital role in businesses, these solutions aim to shorten the period from lead generation to closing the deal. This can start with basic things like help with sales materials, which can include scripts, pitch decks, follow-up email sequences, lead magnets, case studies, etc.
Special services will be aimed at automating certain transaction steps and helping specialists identify and contact leads more quickly and efficiently.
For example, some tools help managers understand which clients have responded to messages and emails in order to plan further steps and get the maximum effect from interactions. Importantly, each specialist can fully adjust the cycle of communication and activities.
Tools for collecting consumer feedback also support the sales team with the knowledge of how to produce a funnel more efficiently and develop the product and strategy.
Top sales enablement software for sales activities: Demandbase, PFL, Prelay. 
4. Content management and production
The right content can help close deals, but it is crucial that it is systematized and at the salesperson's fingertips. It can become a time-sink for a specialist to find the sales and marketing content they need to speed up purchases. With the help of content management, sellers can find the precise information that is demanded during the sales process.
This can be anything from videos and other content that is ready for delivery to the client to virtual training sessions for the specialists. Also, such systems are equipped with built-in solutions that help salespeople produce custom materials for each category of prospects. Integrated statistics showcase how clients interact through reach, saves, and shares, which additionally supports the sales staff in knowing the most powerful strategy for each target clientele.
Best sales enablement platforms for sales content: Highspot, Bit, DocSend. 
5. Sales Intelligence
These platforms incorporate functionality for business owners, marketers, and sales professionals. Large companies require such platforms to synchronize the work of specialists, understand the intentions of target clients, automate actions, and estimate the effectiveness of communications.
Most importantly, such solutions are able to accumulate huge amounts of data that assist a team of marketers and sales professionals build a portrait of the consumer with the help of in-depth analytical reports. For example, they can collect information from various sources like websites, news, and online media, which will indicate that potential leads are interested in buying. What's more, this information can be integrated into other sales tools, such as email, advertising cabinets and the CRM system, which makes Sales Intelligence the most technically complex and advanced system for sales.
For example, such tools allow you to track the work of sales specialists in order to assign the necessary training and get feedback from other departments of the company. Thus, such systems help a company's leaders receive all essential sales data and thereby unfold new opportunities for product development.
Sales Intelligence examples: D&B Hoovers, Artesian, Intricately. 
All of these apps and functionalities enable a sales team because they help target the right prospects and move them through the pipeline from an interested party to a satisfied customer.
Linked Helper – sales enablement toolkit for LinkedIn
Linked Helper is one of the best sales enablement tools for sales reps who are focused on finding clients and partners on LinkedIn. Its functions aim to collect information, establish contacts, and automate the entire communication cycle.
1. Studying customers and competitors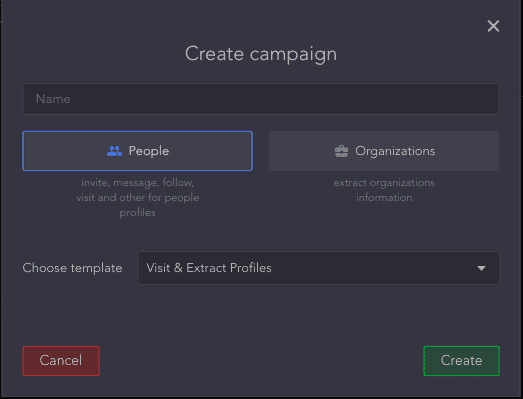 At this stage, Linked Helper will collect as much data about people and organizations as possible. You will be able to extract data about the market and customers into one file. By using Linked Helper, a sales specialist receives valuable insights that enable personalized communication and form a database for email newsletters.
The tool searches for profiles of people and companies according to the specified search criteria. Arrange filters by geography, niche, organization size, and positions.
Linked Helper keeps all profile data in the CRM. After the search, all profiles will be saved in the system for subsequent communication.
You can download the file in order to share with colleagues, add emails to the mailing list, and study the business sectors.
2. Automatic connections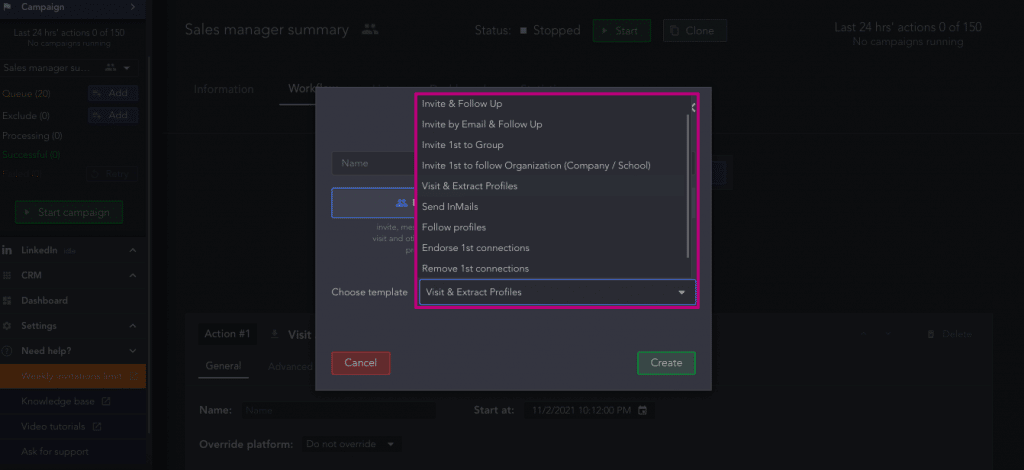 After studying the market and target customers, you can start contacting the right people. All these actions are automated in Linked Helper.
Expand your network of contacts. The service will automatically generate your customer base on LinkedIn. For example, it will subscribe to target profiles or send invitations through an email database that has already been collected. Thus, you will be able to beat the limit and send more than 100 invitations weekly.

Invite contacts to thematic groups. Also, you can automatically invite contacts to subscribe to your company's group, regardless of whether you manage this group or not.
Invite contacts to events. If you are hosting a webinar or conference for clients, you can send them invitations automatically. This will help to conduct training about products and thereby increase sales and brand loyalty.
Systematize your contact data. With the help of tags, notes, and customer cards, you can keep records of interactions and add notes about customers to quickly find them in the system.
3. Interaction with customer content

Since LinkedIn is a social network where all user actions are visible, it is important that your sales profile is active. Interaction with strategically important people and companies will happen regularly.
Automatic likes on publications and articles. The tool will express your interest in certain content, which means your name will be displayed more often in the feeds of potential customers and partners.
Automatic comments on publications and articles. On your behalf, the tool will send comments on thematic content, which you will define in advance. You can set a limit for this action.
Thus, your reputation will benefit by showing interest in the posts of potential customers.
4. Message automation

Linked Helper allows you to fully automate communication with customers at all stages of the funnel. You will save the templates that you usually use in correspondence with new clients – during the sales process, for follow-ups, and for collecting feedback. Automation of your responses to incoming requests will allow you to quickly cope with a large number of requests.
Compose custom auto-messages for different audiences. You can use photos in messages, send InMails, and contact members of thematic groups.
Analyze the history of correspondence. After mass mailings, you can download all incoming responses and analyze them, as the history will be saved as a spreadsheet.
5. Integration with other sales services
If you keep records of sales in a CRM, all activity and data from LinkedIn can be synchronized by using Linked Helper. For example, you can integrate emails and the history of correspondence in LinkedIn private messages with customers and upload data to a Google Spreadsheet.
Also, Linked Helper is compatible with Linkedin niche products such as Sales Navigator and Recruiter.
Sales enablement analytics: 4 KPIs to track
After connecting any of the top sales enablement platforms into your work, it's vital to understand whether the tool has paid off and how your efficiency has changed. To do this, companies pay attention to key metrics before and after using these services.
1. Lead Quality
Try to figure out how the implementation of software has helped to increase the number and quality of leads. The final profit growth and benefits from using the programs depend on how efficiently and quickly you can search for leads that will eventually convert into buyers. Therefore, the ratio of conversions to the number of leads will reveal to you the quality of your leads.
Remember that by applying Linked Helper you can extract a spreadsheet with potential customers' contacts in a few minutes.
2. Time
The more sales you can make in a short period, the more efficient your work is. Therefore, the task of the tools is to equip managers with the necessary information and automate the most common actions, which will reduce the time from the lead search to closing sales. So, when you experiment with any new system, calculate the ratio of time spent to close deals before and after its implementation.
Sometimes it may happen that the software only complicates the process of driving leads to conversion; that's why the tool should be as simple and effective as possible. One of your tasks is to reduce the time spent on data research to personalize information for sales. Linked Helper is the right solution if your sales take place on LinkedIn, because the process of finding leads, collecting essential information about them, and communicating with them happens on autopilot.
3. Customer Lifetime Value
This indicator will show how much software helps in developing long-term connections with customers. Repeat purchases bring more profit than searching for new leads, so a good tool should be aimed at maintaining customer relationships for upselling or cross-selling possibilities and collecting feedback.
4. The Effectiveness of Content for Sales
Calculate how the use of particular content for your sales outreach has improved interactions and influenced the projects. For example, you can keep a record of how many buyers downloaded materials and how clients' engagement has changed in social networks by the number of likes, reach, and the number of shared and saved publications.
To sum up, Linked Helper is a tool for automating sales through LinkedIn that will help improve the metrics listed above. With this service, sales professionals will receive better leads in a short period of time and will have contact details at hand that can be quickly transferred into the CRM. Moreover, Linked Helper hastens correspondence with clients at all levels of the funnel.
Download the 14-day trial for free to increase sales through LinkedIn now.