LinkedIn is a business network where crucial business insights can be collected – potential leads, opinion leaders, and top management profiles. Therefore, scraping LinkedIn profile data will help you manage a database for various business purposes, like lead generation, employee search, or influencer marketing.
By default, on the social network, you can download an archive with your 1st degree contacts, but the data will be incomplete – there will be no contact information and emails. However, Linked Helper can crawl profiles and collect emails. This will be possible not only with 1st degree contacts, but also for 2nd and 3rd degree connections. To do this, you can set up integration with the Snov.io service and use the built-in function "Find profile email."
What sources can you scrape LinkedIn public profiles from?
Your professional network
Search results in LinkedIn by given parameters
Group members
Event participants
Those who put likes and leave comments on publications. It's valuable that you can collect those who like and comment on not only your publications but also competitors' posts. For example, it can be an influencer or a top manager.
The list of collected profiles can be stored in the memory of the CRM for further work or exported as a spreadsheet file. For example, you can collect profiles of sales directors, automatically like their posts, and write them auto-messages.
You can set up narrow criteria and crawl profiles for different purposes. This will help you build a social media lead base that matches your ideal client profile. The chances that such a database will bring sales qualified leads are much higher.
Download Linked Helper 2 and get 14-free trial right now
If you are not yet in our list of users, then join. We give you a trial version to start your experience with our LinkedIn tool.
How to crawl LinkedIn public profiles
#1 Download free LinkedIn scraper data extractor
You can try the scraping function for 14 days free. This is a great opportunity to test the capabilities of the service and get the first results. The tool is compatible with all LinkedIn plans – just log in to your account and start scraping.
Linked Helper is an independent software that is technologically the safest way to automate your workflow. It surpasses plugins and cloud-based software, and its actions are performed exactly as if they were done by a human.
#2 Start a campaign
To search for people's profiles, create a People campaign. In the Choose template menu item, select the Visit & Extract profiles function. Learn the exact action instructions and settings.
This may not be the only action in the campaign. You can add more tasks to the tool in the funnel. For example, invite all people from the list to a group or write a message to everyone.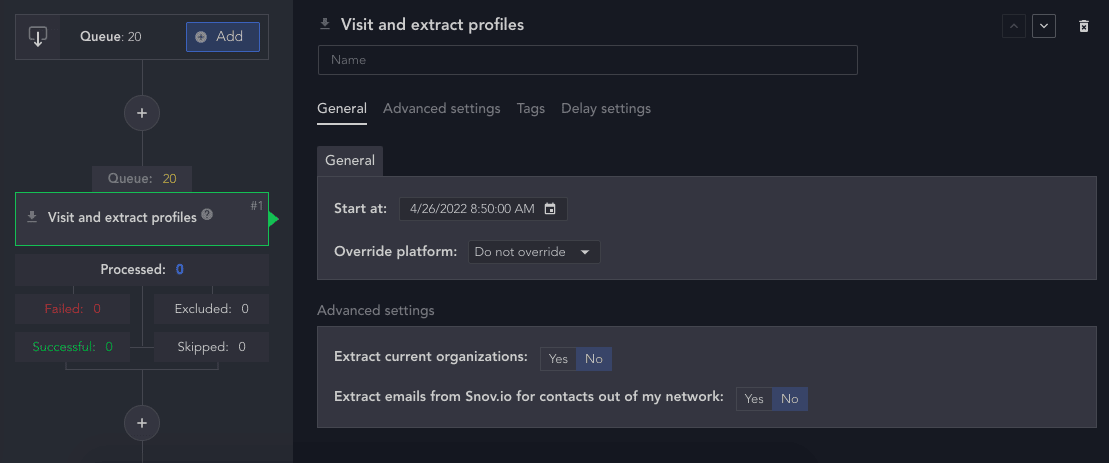 A big plus of the Visit and Extract actions is that the tool will visit profiles on your behalf and soon you will get a lot of reverse views. That is, you will draw attention to your account and company, growing the organic reach.
Most importantly, before visiting, make sure that your profile is set up for sales – it needs to show your competitive advantage in the descriptions, reviews of your work, contact information, and links to your website.
#3 Add profiles for scraping
Now you should assign and specify the path to the accounts you want to crawl. To do this, on the left side of the screen on the toolbar, find the yellow Queue line. This is the section where you can add profiles from many sources of the social network and all its extensions. For example, you can choose the Sales Navigator service.
Choose a path to collect Queue→ Add→ Choose source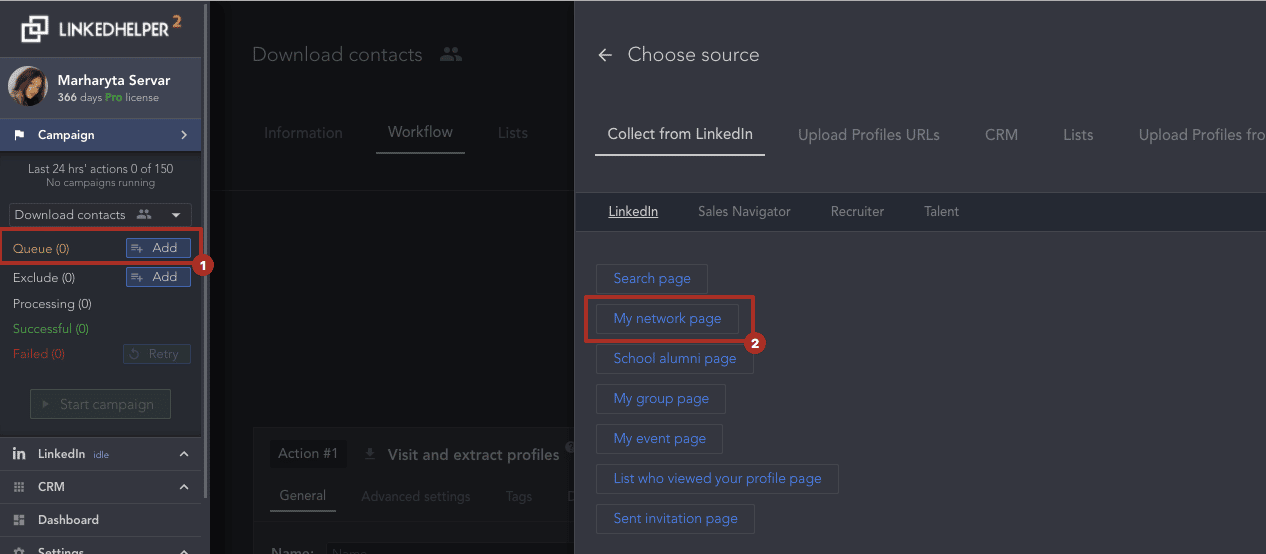 When accounts are added to the Queue section, you can view them in the CRM, add targeted actions with them, and even download them. But without visiting the profile, Linked Helper will not be able to load contact information (email, phone number) into the table. To do this, the tool must visit the page via the Visit and Extract action.
After you specify the path to collect, the desired page will open before you. If you need these accounts for scraping, on the left side of the menu, select Queue → Collect from current page.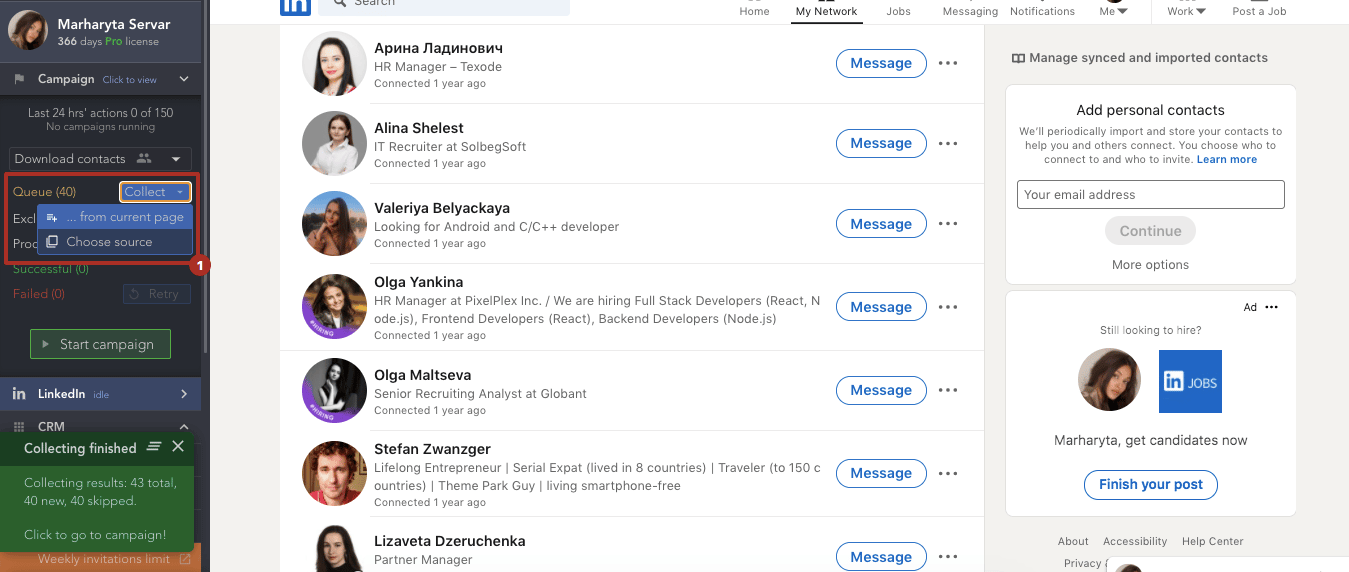 Above you can see the collection process – the tool will give a status in the green box and show a message when the collection is completed.
After that, you can start the Visit and Extract campaign.
#4 Launch the campaign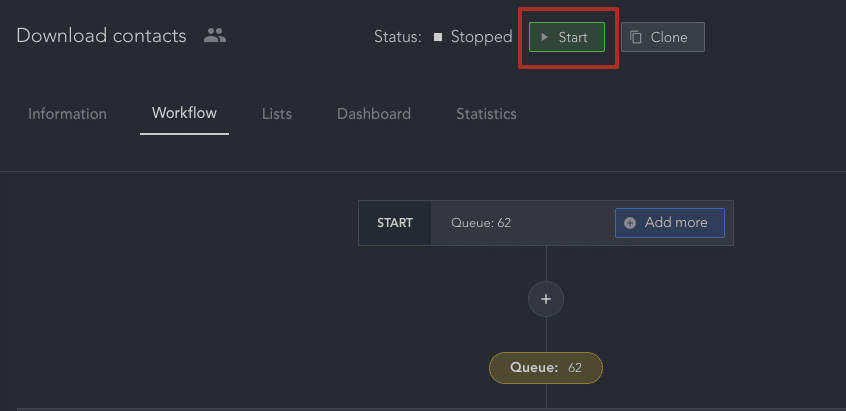 After successfully collecting profiles, you can see them in Lists → Processed tab. When you start a campaign, such as visiting profiles, they will go to the Successful tab.
In both cases, profiles can be downloaded. Only after visiting the profiles, in the CRM and in the extracted file you will get an extended set of data, including emails.
How to activate the collection of emails from 2nd and 3rd degree contacts
In the setting of the "Find profile emails" action, select Yes in these items:
Get email from LH email finder.
Get email from Snov.io – in this case, you will need to further configure the integration. Click on the blue link and go to the page of the cold mailing service, Snov.io. Follow the instructions to get the API and integrate the service.
By the way, if you only want to crawl emails, you can do it without visiting the profile, just by using the "Find profile email" action. In this case, the software will not visit the page, which will save your daily activity credits. All emails can be found through Linked Helper's internal database.
To do this, you need to use the "Find profile emails" action with the LH Email Finder enabled. If LH Email Finder doesn't find the mail, then Snov.io (if enabled) will be used. After visiting, the software will find the domain of the company for which the lead works.
#5 Get into data download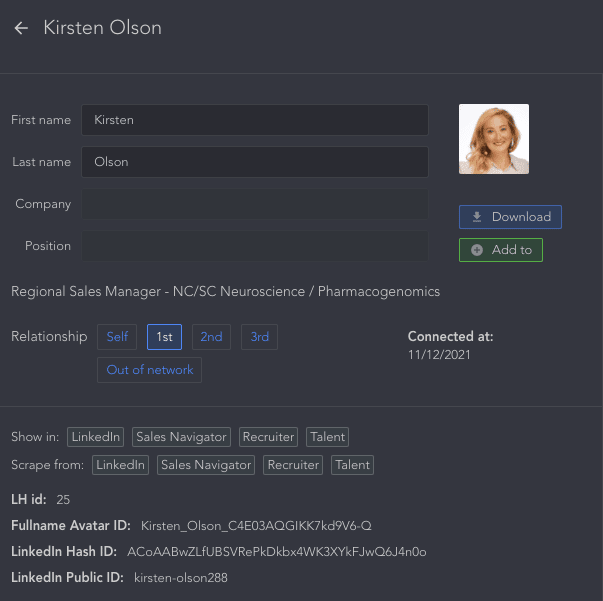 Having opened each profile, in the Linked Helper CRM you can find the most complete information about every person. You will see all LinkedIn text blocks and contacts and will be able to leave notes on each person inside the CRM.
This is a unique opportunity to use all this data to compose a message, study bios, and search by criteria within the database.
To download the database in CSV format, go to the Successful tab after the campaign ends. There you will see all the accounts that the system has crawled and now all the data from their pages can be downloaded in the form of a spreadsheet.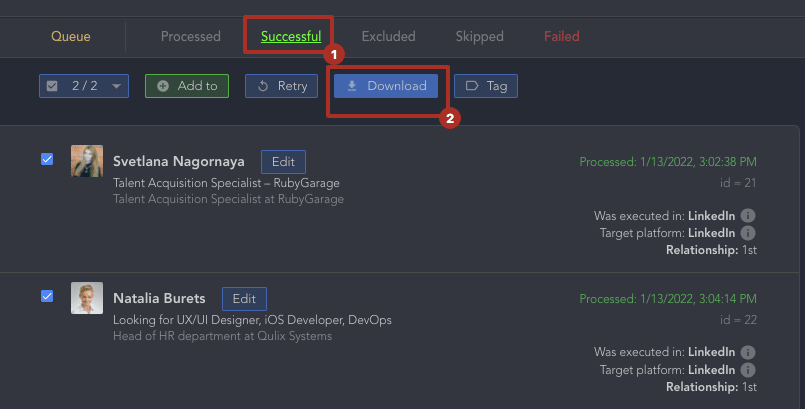 You can select individual people or all in the list. After that click on the Download button.
In the pop-up window you will see a detailed manual on how to use the CSV file and open it through Excel.
Explore the manual on how to download profiles.
It's handy that you can sort your contacts by assigning tags to them. This will help you better navigate the CRM and sort out profiles for different purposes. For example, you can tag all the accounts that you have collected for this campaign with an "influencer" tag, and select another custom tag to collect leads.
That is, such a smart crawler will help you not only parse and download accounts, but also store the entire database and set up subsequent work with them. You won't have to do any extra steps because all LinkedIn marketing tasks can be automated in Linked Helper.
This instruction shows how to purposefully parse profiles. But in practice, Linked Helper will also extract data from people's accounts while executing certain actions – for example, sending requests for invites or auto-messages – because in order to write messages, the software will open a person's account and type texts the way a person does. All this crucial account data will be permanently uploaded to the CRM and can be downloaded as a file.